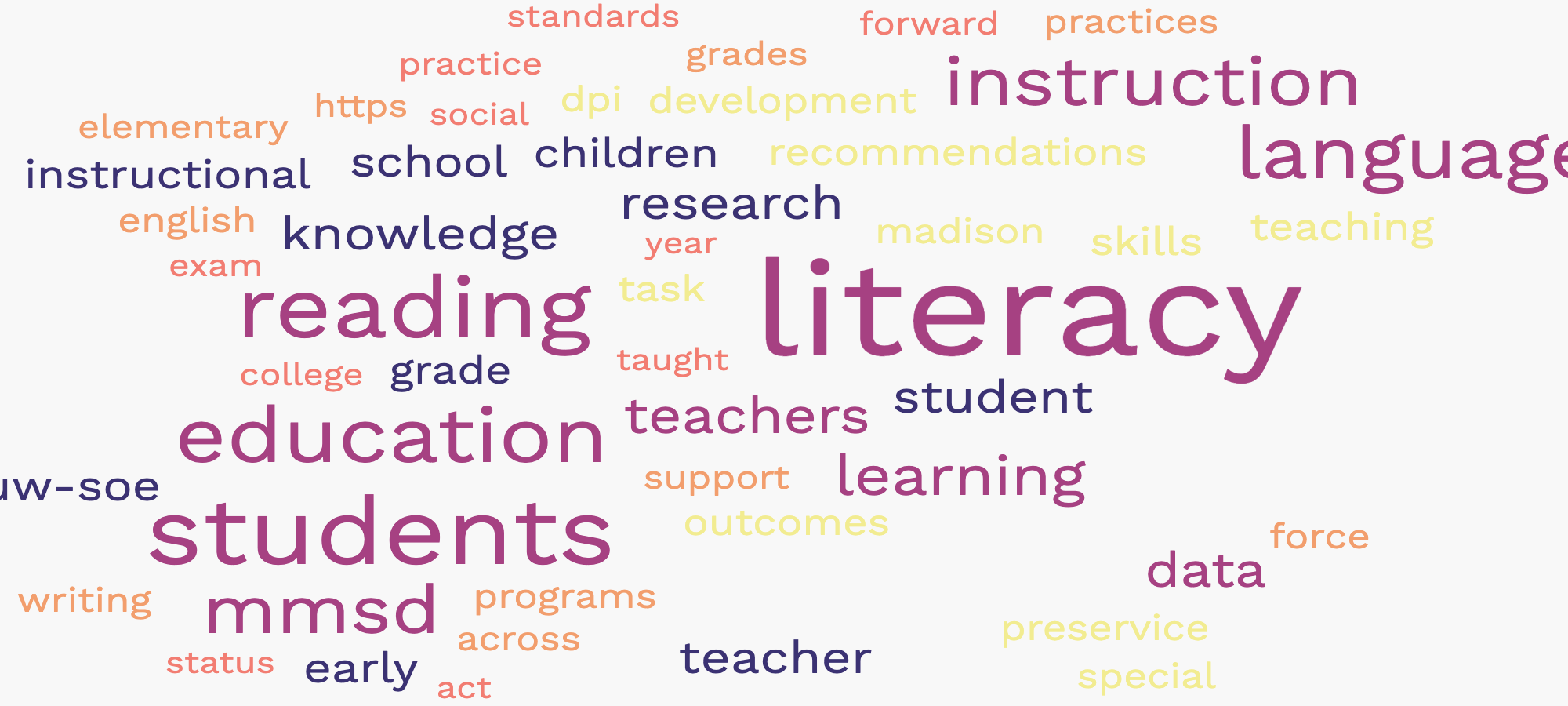 Kvistad noted that MMSD completed a report similar to this one in 2011, but said it ended up "on a shelf." This time, she said, the district has "got to do something different,"
Charge to the Task Force:

1. Reviewing and becoming familiar with the best evidence about the most effective ways to teach literacy in pre-kindergarten through 12th grade – and developing future teachers who can better teach literacy in schools.

2. Identifying how literacy, especially early literacy, is currently taught across MMSD and analyzing achievement data for MMSD students with respect to literacy.

3. Examining how literacy, especially early literacy, is being taught to teacher education students at UW-Madison's School of Education and analyzing what these future teachers are currently learning about literacy.

4. Making recommendations to MMSD and the UW-Madison School of Education about steps to be taken that can strengthen literacy instruction in the Madison Schools and UW-Madison's teacher education programs.
2021 Literacy Task Force Report (104 Page PDF):
MMSD's most recent K-12 Literacy Program Evaluation was released a decade ago and many of the challenges identified in that report persist. The district has worked to provide coherent literacy instruction through adopting curricular approaches, creating professional learning opportunities, utilizing various forms of assessment, and adopting new tools and materials for teachers. An infrastructure was created to support these efforts, which relies heavily on instructional coaches to support teachers as they implement core practices at the school level. Other organizational contexts which contribute to the district's current state of student literacy outcomes were also reviewed by the Task Force. Finally, it is of note that under the leadership of Dr. Carlton Jenkins, MMSD is using literacy at every level as an equity strategy to ensure all MMSD students receive high-quality, grade level instruction.

The evidence presented in this report paints a relatively consistent picture of literacy outcomes in MMSD. In analyzing the student outcomes across selected student demographic groups some troubling patterns are evident, presented below as three considerations:

Consideration 1. There are stark race and ethnicity differences in students' outcomes in literacy from early elementary through high school. In particular, Black and Hispanic students' level of proficiency and college readiness lags behind that of their White and Asian counterparts. Given their share of the population, White students are overrepresented among students who test as both proficient/advanced and college ready.

Consideration 2. As with race/ethnicity, there are also troubling outcome disparities across ELL and non-ELL students, low-income and non-low-income students, and special education and non-special education students that are consistent in each of the years measured.

Consideration 3. The overall patterns of grades 2, 4, 8, and 11 from year-to-year do not show significant increases in proficiency rates, indicating a need to strengthen core instruction for all students and evaluate the effectiveness of interventions.
Scott Girard's commentary notes:
Kvistad noted that MMSD completed a report similar to this one in 2011, but said it ended up "on a shelf." This time, she said, the district has "got to do something different," hoping that the task force group and partnership with UW-Madison will keep everyone involved accountable.
"We could have all stayed in the task force for a really long time talking," she said. "But we actually have to go to action. And that's why the charts were in there and the commitment to … the joint partnership."
Diamond said the "high-level investment" from Jenkins and School of Education dean Diana Hess will help move the recommendations forward.
"Some of the things that are being recommended are enhancements of activities that are already underway, doing things in ways that are more productive, more focused, not necessarily creating things whole cloth," he said. "And so I think a lot of the foundation is already there."
More:
'Recognize reading as a right for all children'
The first of the report's 28 recommendations calls to "explicitly state and recognize reading as a right for all children."
The language is reminiscent of a Michigan court case in which seven Detroit students brought a federal court case against the governor claiming that their inadequate education violated their rights under the 14th Amendment.
The report, however, makes clear that it uses the phrase "to describe a moral imperative," and it "is not meant to be interpreted as a legal statement."
The data clearly indicate that being able to read is not a requirement for graduation at (Madison) East, especially if you are black or Hispanic"
2017: West High Reading Interventionist Teacher's Remarks to the School Board on Madison's Disastrous Reading Results
Madison's taxpayer supported K-12 school district, despite spending far more than most, has long tolerated disastrous reading results.
My Question to Wisconsin Governor Tony Evers on Teacher Mulligans and our Disastrous Reading Results
"An emphasis on adult employment"
Wisconsin Public Policy Forum Madison School District Report[PDF]
WEAC: $1.57 million for Four Wisconsin Senators
Friday Afternoon Veto: Governor Evers Rejects AB446/SB454; an effort to address our long term, disastrous reading results
Booked, but can't read (Madison): functional literacy, National citizenship and the new face of Dred Scott in the age of mass incarceration.
When A Stands for Average: Students at the UW-Madison School of Education Receive Sky-High Grades. How Smart is That?