Thank you CapTimes for printing my OpEd. Interestingly, in a conversation with the Wisconsin Department of Public Instruction yesterday, state officials told us that we are legally obligated to count our students who are enrolled and present on the day of the pupil count (tomorrow, Friday). This is state law. They also told us we "should keep the money".

As a side note, see a second article that I posted in the comment below about this. Our counting or not counting our Scholars will not have an impact on MMSD. What will impact them and other districts more is if our Scholars enroll with them or not. So, why did One City Schools get singled out and why do people expect us to do what NONE of the 423 traditional public school districts or 60 independent public charter school districts in Wisconsin do? One word answer: Politics.

It's funny how in my home town (Madison), I am personally and constantly expected to go above and beyond everyone else and work magic with a too little funding. MMSD will receive and spend $23,000 per student, on average from the state, federal government and local property taxes. One City will only receive approximately $13,000 per student from the state and federal government, and not one dime of local property tax money, even though we operate "public schools" that educate the public's children. Tell me if that's fair. I have to raise $9,000 per student (multiplied by 400+ students) from private philanthropy, foundations, corporations and people like you in order to operate our schools.

This is totally not fair.

Public school districts like MMSD, Middleton, etc also get to count our charter school students in their annual property tax levy if our Scholars reside within their districts, and keep that money.

They do not "transfer" this money to us…but this wasn't mentioned in any of the press releases or articles other organizations wrote about us. Why not?

Why not point out that traditional public school districts get to keep thousands of dollars per child for students they don't educate and are not enrolled in their schools? It's very disingenuous and unfair, and is only meant to draw negative public attention to public charter schools and One City. It's sad, very sad.

Independent public charter schools like One City are also expected to produce dramatic test score improvements annually when each year we enroll many new students who are two or more years behind academically. We also had to alter our entire school model just 18 months after opening our first charter (elementary) school after the pandemic arrived in March 2020. Thankfully, this school year, we have been able to shift back to our original school design and are enjoying doing our work with our Scholars the way we always intended.

This is how innovators in education who go against the status quo in Dane County and Madison are treated. We get questioned, ridiculed and smacked for trying to do something new, despite 90 percent of Black and 80 percent of Brown students failing miserably in our public schools – EVERY YEAR.

BUT YOU DON'T SEE MANY ANY HEADLINES about that, or about the BUT YOU DON'T SEE MANY ANY HEADLINES about that, or about the fact that just 35 PERCENT OF ALL third graders in Wisconsin, including students from all racial backgrounds, can read to learn by the end of 3rd grade. That's all – 35%…..and just 8% of all Black third graders and 18% of all Latino third graders in Wisconin.

The $250,000 One City Schools might receive for our Scholars is more important than addressing the massive failure of thousands of our children in Madison, Dane County and our state?

Our priorities continue to be jacked up and off-base, people. Our chickens will come home to roost, and in many ways, they already are.

No, schools are not solely at fault for the failure of our children BUT One City focuses holistically on the family, community, students and their habits of character), and our educators and school at the same time. We have expectations and supports for everyone. We go at these challenges head on and are transparent about our challenges and results so we and others can learn from them.

One City Schools is an asset to Madison, Dane County and Wisconsin, and should be treated and supported this way. Who else is trying to tackle the challenges the way we are? Onward.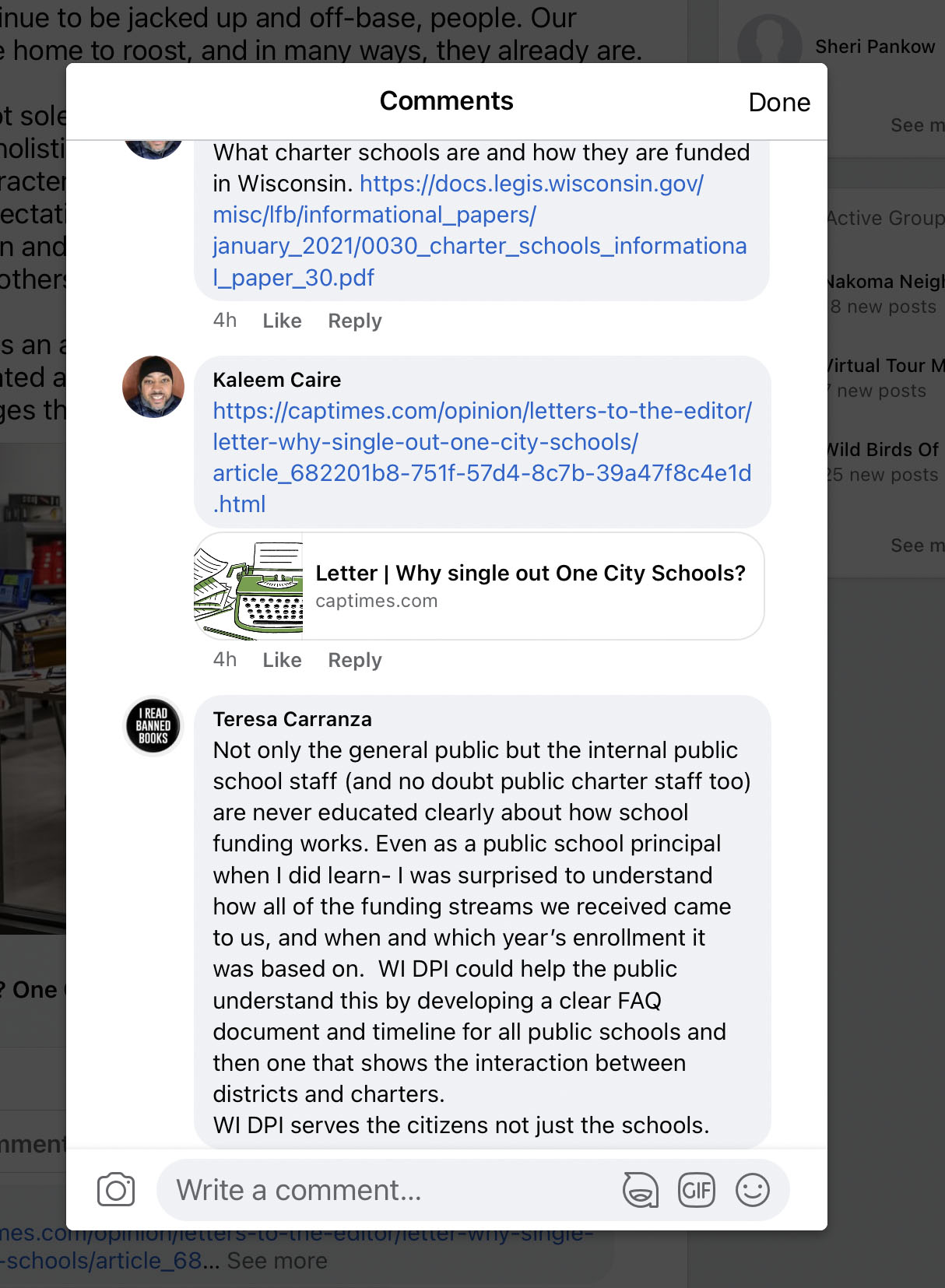 2011: a majority of the taxpayer funded Madison School Board aborts the proposed Madison Preparatory Academy IB Charter School in a 5-2 vote.
The data clearly indicate that being able to read is not a requirement for graduation at (Madison) East, especially if you are black or Hispanic"
My Question to Wisconsin Governor Tony Evers on Teacher Mulligans and our Disastrous Reading Results
2017: West High Reading Interventionist Teacher's Remarks to the School Board on Madison's Disastrous Reading Results
Madison's taxpayer supported K-12 school district, despite spending far more than most, has long tolerated disastrous reading results.
"An emphasis on adult employment"
Wisconsin Public Policy Forum Madison School District Report[PDF]
WEAC: $1.57 million for Four Wisconsin Senators
Friday Afternoon Veto: Governor Evers Rejects AB446/SB454; an effort to address our long term, disastrous reading results
Booked, but can't read (Madison): functional literacy, National citizenship and the new face of Dred Scott in the age of mass incarceration.
No When A Stands for Average: Students at the UW-Madison School of Education Receive Sky-High Grades. How Smart is That?