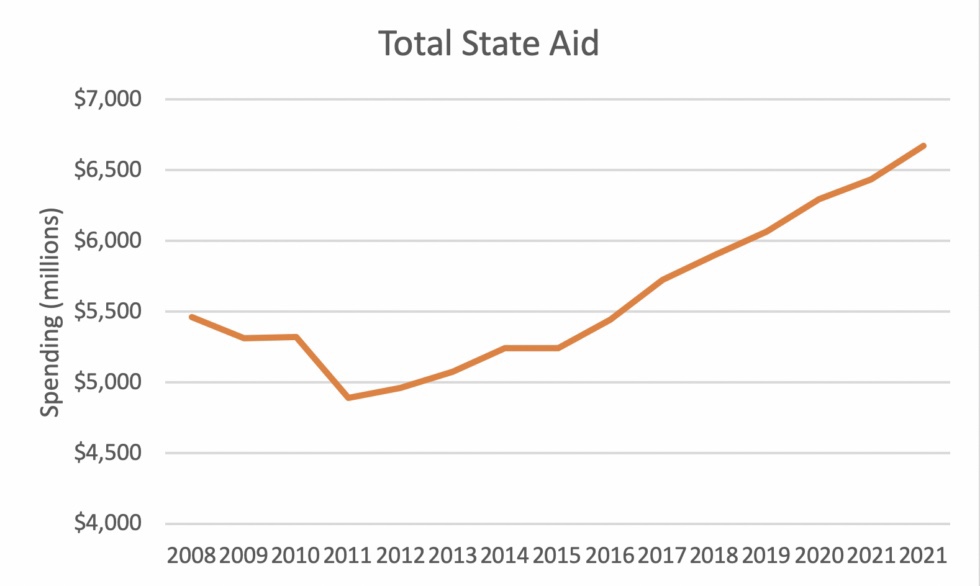 DPI itself has also contributed to this problem in a number of ways. Nearly $150,000,000 of state education spending is retained at the state level for operations. In addition, DPI has contributed and created the barriers for teachers to access the classroom. With barrier upon barrier to get licensed to teach, it is difficult to recruit and keep high quality teachers in Wisconsin. If DPI believes that school districts ought to be rewarding high quality teachers with more money, they should be working to solve all of the issues outlined here.
"The past 10 years we've suffered with budgets designed with austerity in mind."
In keeping with the theme that schools aren't getting enough money, Underly paints a picture of Wisconsin's school spending that is at odds with the reality. The Figure below shows school spending since 2008, including the projected ahead figures from the recently passed budget.
Madison's literacy task force report background, notes and links.
Mandates, closed schools and Dane County Madison Public Health.
The data clearly indicate that being able to read is not a requirement for graduation at (Madison) East, especially if you are black or Hispanic"
2017: West High Reading Interventionist Teacher's Remarks to the School Board on Madison's Disastrous Reading Results
Madison's taxpayer supported K-12 school district, despite spending far more than most, has long tolerated disastrous reading results.
My Question to Wisconsin Governor Tony Evers on Teacher Mulligans and our Disastrous Reading Results
"An emphasis on adult employment"
Wisconsin Public Policy Forum Madison School District Report[PDF]
WEAC: $1.57 million for Four Wisconsin Senators
Friday Afternoon Veto: Governor Evers Rejects AB446/SB454; an effort to address our long term, disastrous reading results
Booked, but can't read (Madison): functional literacy, National citizenship and the new face of Dred Scott in the age of mass incarceration.
When A Stands for Average: Students at the UW-Madison School of Education Receive Sky-High Grades. How Smart is That?