Taxpayers have long supported the Madison School District's far above average spending, while tolerating our long term, disastrous reading results.
The district has placed substantial tax and spending increase referendums on the November, 2020 Presidential ballot.
A presenter [org chart] further mentioned that Madison spends about $1 per square foot in annual budget maintenance while Milwaukee is about $2. – October 2019 presentation. Milwaukee taxpayers plan to spend $1.2B for 75,234 students, or $15,950 per student, about 16% less than Madison.
Blacks for Political and Social Action of Dane County:
"We have not been presented with evidence that links additional public expenditures with increasing the academic performance of African American students," the organization said in the statement. "More of the same for African American students is unacceptable."
2020 Referendum: Commentary on adding another physical Madison School amidst flat/declining enrollment..
Elected Madison School Board referendum advocacy and rhetoric:
Savion Castro: Why Madison Needs Referenda 2020.
$350 million for our kids and our Madison public schools!? On behalf of Schools Make Madison Advocacy and the "Vote Yes 2 Invest" campaign, Maurice "Mo" Cheeks and I invite your questions and involvement as we work together between now and November 3rd. Let's get this done! To learn more, please read: https://lnkd.in/eF276nn and visit our website, https://yes2investmsn.org/.
Many SIS 2020 Referendum notes and links.
Foundation for Madison Public Schools [Board] recently spent funds on a Facebook advertising campaign.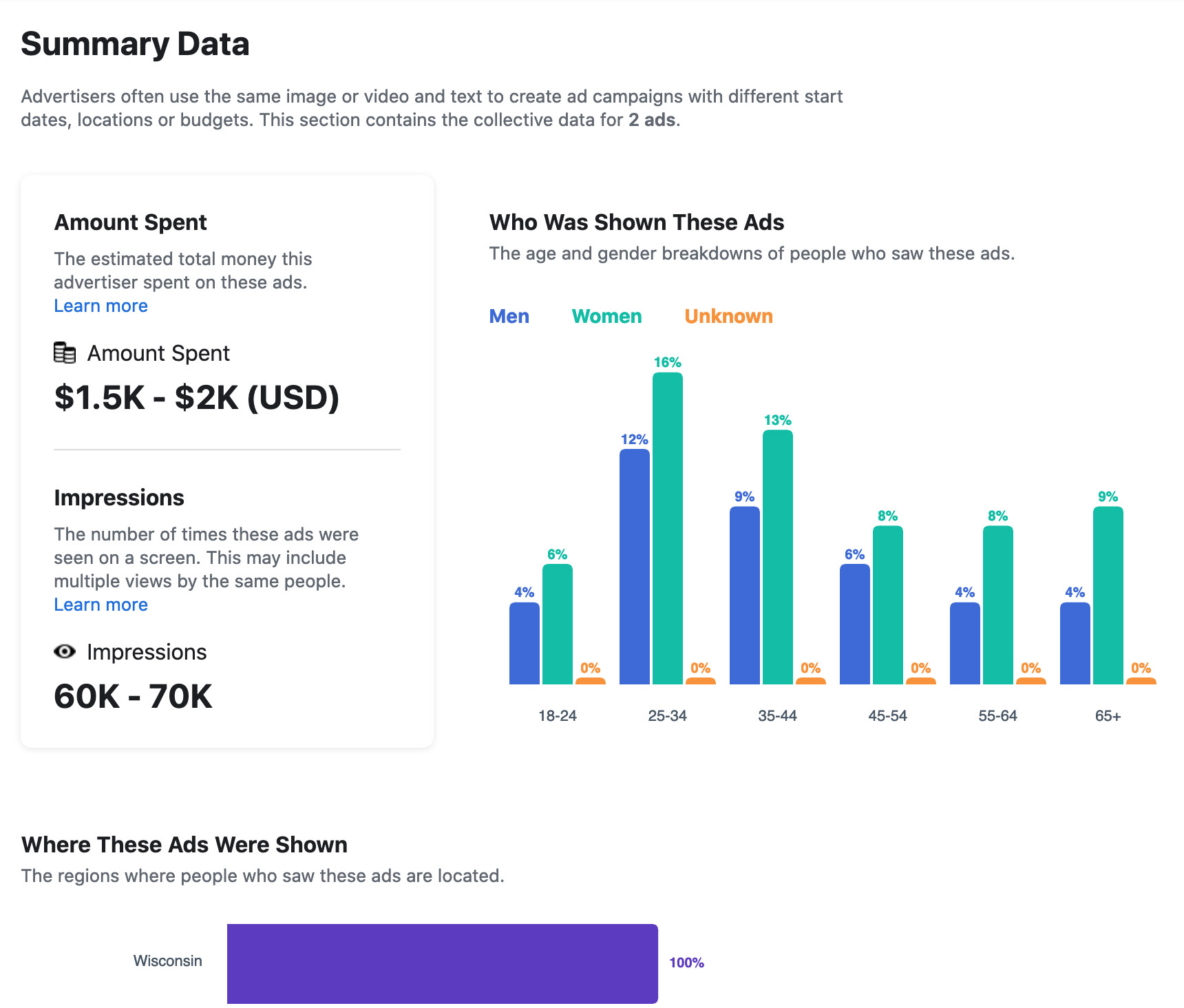 The advertisement.
The advertisement includes a reference to https://yes2investmsn.org
The Foundation for Madison Public Schools lists $9,011,063 in assets at the end of 2019 (!) via FMPS' IRS Tax Form 990 "Return of Organization Exempt from Tax".
Administrative commentary via a Wisconsin State Journal article.
I've not seen any discussion of the property tax implications of a decline in property assessments. For example: Lindsay Christians:
"It's not an economic environment or a political environment for a business like mine to stay open," Warnke said. "The government can't get its stuff together. We can't control the pandemic, and it's getting worse in Wisconsin. I'm looking at it, going … this might be the right time to gracefully exit, before I run out of cash."

It's small comfort to Warnke that he and Rockhound are not alone. Beloved breakfast spot Manna Café on the north side, elegant Graft on the Capitol Square, Charlie's on Main in Oregon with its hidden speakeasy and the family friendly Italian spot Vin Santo in Middleton — all have been casualties of COVID-19.
Foundation for Madison Public Schools pro referendum YouTube videos:
Owner of East Towne, West Towne malls files for bankruptcy protection
Shelley Mesch:
The owner of East Towne and West Towne malls in Madison filed for bankruptcy protection Monday, hurt by the coronavirus pandemic that has forced their tenants to permanently close stores or not pay rent.

The malls, owned and operated by Chattanooga, Tennessee-based CBL, will remain open as the bankruptcy protection process continues.

East Towne and West Towne malls closed in March for nearly two months following Gov. Tony Evers' stay-at-home order that shut the doors on nonessential businesses as the coronavirus spread in Wisconsin. Statewide restrictions were eased in May and ultimately thrown out by the state Supreme Court, but Dane County's health department placed capacity restrictions on businesses including retailers.