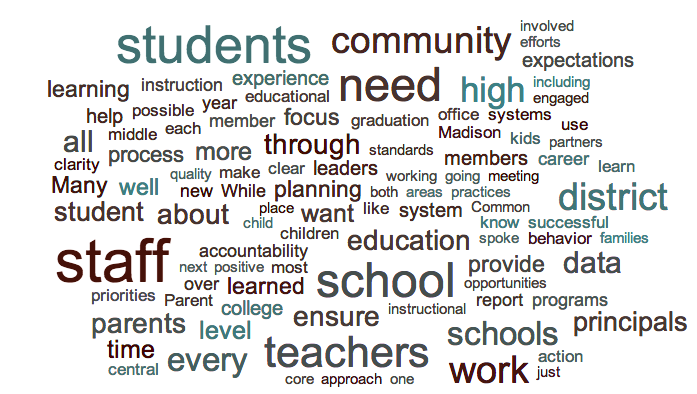 Madison Superintendent Jennifer Cheatham (PDF):
Strengths
Overall Themes
Quality of teachers, principals, and central office staff: By and large, we have quality teachers, principals, support staff and central office staff who are committed to working hard on behalf of the children of Madison. With clarity of focus, support, and accountability, these dedicated educators will be able to serve our students incredibly well.
Commitment to action: Across the community and within schools, there is not only support for public education, but there is also an honest recognition of our challenges and an urgency to address them. While alarming gaps in student achievement exist, our community has communicated a willingness to change and a commitment to action.
Positive behavior: District-wide efforts to implement an approach to positive student behavior are clearly paying off. Student behavior is very good across the vast majority of schools and classrooms. Most students are safe and supported, which sets the stage for raising the bar for all students academically.
Promising practices: The district has some promising programs in place to challenge students academically, like our AVID/TOPS program at the middle and high school levels, the one-to-one iPad programs in several of our elementary schools, and our Dual Language Immersion programs. The district also does an incredibly successful job of inclusion and support of students with special needs. Generally, I've observed some of the most joyful and challenging learning environments I've ever seen.
Well-rounded education: Finally, the district offers a high level of access to the arts, sports, world language and other enriching activities that provide students with a well- rounded learning experience. This is a strength on which we can build.
"AVID is totally paying off. Kids, staff, everyone is excited about what it has brought to the school." – Staff member
"Positive Behavior Support has made a dramatic improvement in teaching and the behavior expected. We've seen big changes in kids knowing what is expected and in us having consistent, schoolwide expectations"
– Staff member
Challenges
Focus: Principals, teachers and students have been experiencing an ever-changing and expanding set of priorities that make it difficult for them to focus on the day-to-day work of knowing every child well and planning instruction accordingly. If we are going to be successful, we need to be focused on a clear set of priorities aimed at measurable goals, and we need to sustain this focus over time.
"One of the strengths of MMSD is that we will try anything. The problem is that we opt out just as easily as we opt in. We don't wait to see what things can really do."
– Staff member
Coherence: In order for students to be successful, they need
to experience an education that leads them from Pre-Kindergarten through 12th grade, systematically and seamlessly preparing them for graduation and postsecondary education. We've struggled to provide our teachers with the right tools, resources and support to ensure that coherence for every child.
Personalized Learning: We need to work harder than ever to keep students engaged through a relevant and personalized education at the middle and high school levels. We've struggled to ensure that all students have an educational experience that gives them a glimpse of the bright futures. Personalized learning also requires increased access to and integrated use of technology.
Priority Areas
To capture as many voices as accurately as possible, my entry plan included a uniquely comprehensive analysis process. Notes from more than 100 meetings, along with other handouts, emails, and resources, were analyzed and coded for themes by Research & Program Evaluation staff. This data has been used to provide weekly updates to district leadership, content for this report and information to fuel the internal planning process that follows these visits.
The listening and learning phase has led us to five major areas to focus our work going forward. Over the next month, we'll dive deeper into each of these areas to define the work, the action we need to take and how we'll measure our progress. The following pages outline our priorities, what we learned to guide us to these priorities and where we'll focus our planning in the coming month.
Matthew DeFour collects a few comments, here.
Much more on Madison's new Superintendent Jennifer Cheatham, here.