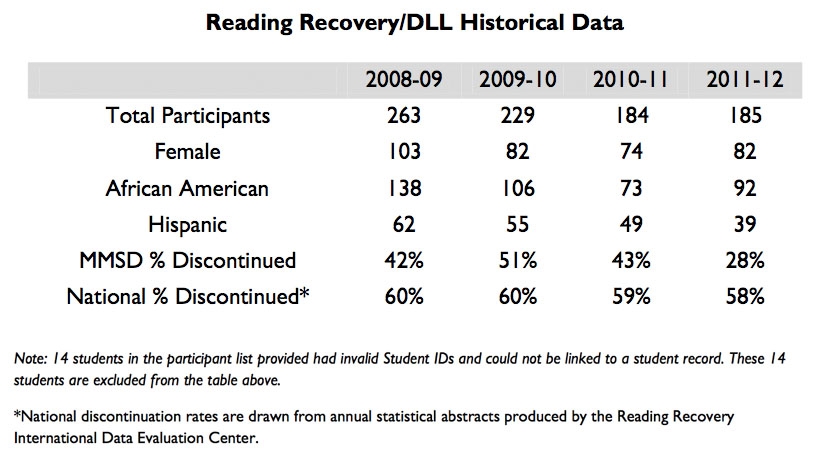 Tap or click for a larger version of the above chart.

Madison Superintendent Jane Belmore:
In investigating the options for data to report for these programs for 2011-12 and for prior years, Research & Program Evaluation staff have not been able to find a consistent way that students were identified as participants in these literacy interventions in prior years.
As such, there are serious data concerns that make the exact measures too difficult to secure at this time. Staff are working now with Curriculum & Assessment leads to find solutions. However, it is possible that this plan will need to be modified based on uncertain data availability prior to 2011-12.
Much more on Madison's disastrous reading results, here. Reading continues to be job one for our $392,000,000 public schools.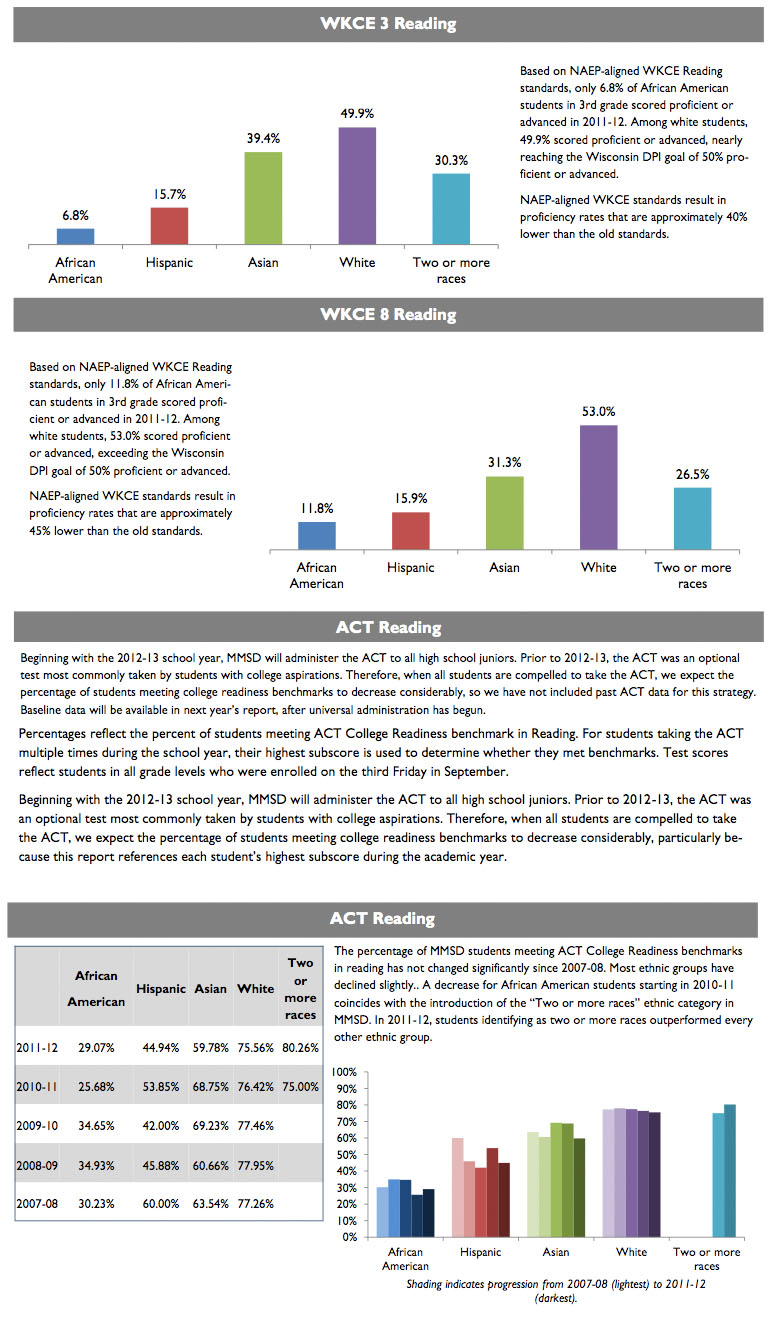 Tap or click to view a larger version of the above image.
Measuring Madison's Progress – Final Report (2.5MB PDF).
Given the results, perhaps the continued $pending and related property tax increases for Reading Recovery are driven by adult employment, rather than kids learning to read.
UPDATE: April 1, 2013 Madison School Board discussion of the District's reading results. I found the curriculum creation conversation toward the end of the meeting fascinating, particularly in light of these long term terrible results. I am not optimistic that student reading skills will improve given the present structure and practices. 30 MB MP3.
UPDATE: December, 2017…. ….
Reading Interventionist Teacher's Remarks to the School Board on Madison's Disastrous Reading Results:
The teachers are angry because we are being held accountable for things that we didn't do at the high school level. Of those 24 students, 21 of them have been enrolled in Madison for four or more years.

Of those 24 students one is Caucasian the rest of them identify as some other ethnic group.

I am tired of the district playing what I called whack-a-mole, (in) another words a problem happens at Cherokee boom we bop it down and we we fix it temporarily and then something at Sherman or something at Toki or something at Faulk and we bop it down and its quiet for awhile but it has not been fixed on a system-wide level and that's what has to change.
2018: Seeing the Forest: Unpacking the Relationship Between Madison School District (WI) Graduation Rates and Student Achievement.