A Republican lawmaker wants to kill Madison's fledgling 4-year-old kindergarten program before it even begins.
Sen. Glenn Grothman, R-West Bend, said Wednesday the state shouldn't encourage new 4K programs — now in 85 percent of the state's school districts and with three times as many students as a decade ago — because taxpayers can't afford them.
"We have a very difficult budget here," Grothman said in an interview. "Some of it is going to have to be solved by saying some of these massive expansions of government in the last 10 years cannot stand."
Madison Superintendent Dan Nerad called Grothman's proposal "very troubling."
"I don't know what the 4-year-olds in Madison did to offend the senator," Nerad said. "There are plenty of studies that have indicated that it's a good idea to invest as early as possible."
Last month the Madison School Board approved a $12.2 million 4K program for next fall with registration beginning Feb. 7. Madison's program is projected to draw $10 million in extra state aid in 2014 when the state's funding formula accounts for the additional students. Overall this year, school districts are projected to collect $223 million in state aid and property taxes for 4K programs, according to the Legislative Fiscal Bureau.
Much more on Madison's planned 4K program, here.
It appears that redistributed state tax dollars for K-12 are destined to change due to a significant budget deficit, not to mention the significant growth in spending over the past two decades.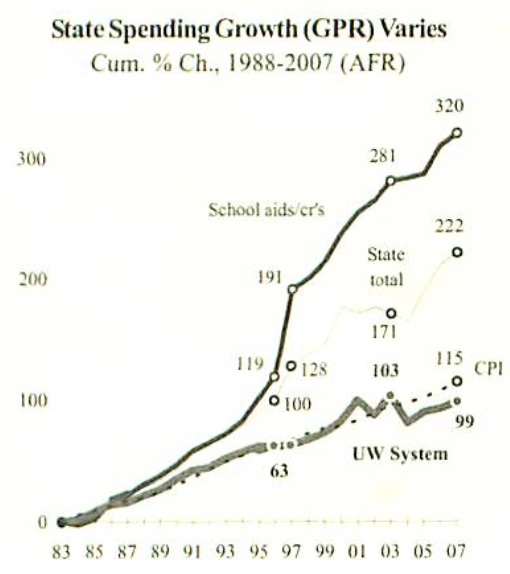 The recent 9% increase in Madison property taxes is due in part to changes in redistributed state tax funds.
I spoke with a person active in State politics recently about 4K funding. Evidently, some lawmakers view this program as a method to push more tax dollars to the Districts.