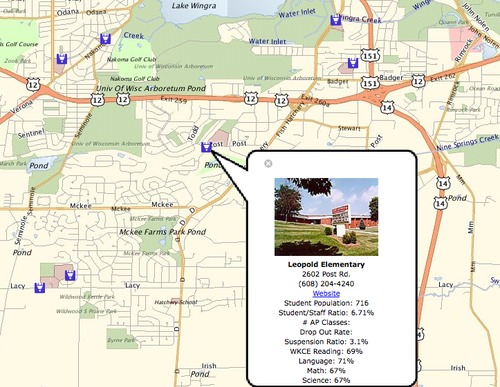 Click to view a map displaying Leopold and nearby schools.
Five days after Madison Metropolitan School District and Madison School Board officials learn if voters approved a referendum to help finance the district budget, they're expected to vote on options to ease overcrowding at Leopold Elementary.
And those fixes, especially the long-range ones, won't be cheap.
Overcrowding at the largest elementary school in the district has been a hot-button topic the past several years, and the School Board has put the issue at the top of its priority list. Leopold had 718 students last year (new figures aren't available yet), making it more than double the size of many district elementary schools and larger even than all but one middle school.
A decision can't come quickly enough for the Leopold community, as evidenced by the 130 parents, teachers and faculty who attended a meeting Sept. 9 at the school. District officials were there to outline a variety of options (see them at www.mmsd.org/boe/longrange) they're considering for the south Madison school located on Post Road.
Distance from Leopold Elementary to: