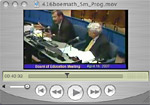 The Madison School District's Math Task Force was introduced to the School Board last night. Watch the video or listen to the mp3 audio.
Background Links: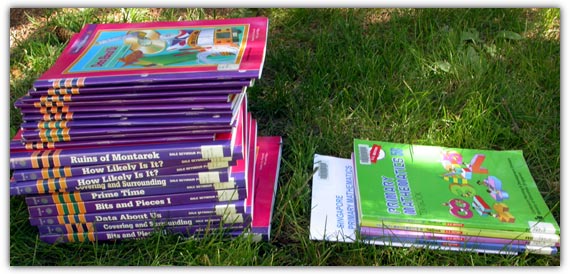 6th Grade Textbooks: Connected (left) and Singapore Math.
UPDATE: A reader emailed this:
I noticed that there were 10 student books in the 6th grade pile for CMP. That was surprising since there are only 8 in publication. Then I looked at the teacher editions and noticed there were 10 as well. There are two copies of both How Likely is It? and Covering and Surrounding.
The statement, "A quick look at the size of the Connected Math textbooks compared to the equivalent Singapore Math course materials illustrates the publisher and author interests in selling these large volumes irrespective of curriculum quality and rigor (not to mention the much larger potential for errors or the lost trees….)" is following the picture in one of the discussions. Taking a look at the Singapore Math website It appears that in addition to the 2 textbooks pictured and student workbooks pictured, there are Intensive Practice books, Extra Practice Books, and Challenging Word Problems books, as well as other resources. Also, the white book on the bottom of the pile appears to be an answer key. There are also teacher guides for 6A and 6B that are not in the picture.
I'm not suggesting the statement above is false, I would just like to point out that the picture being used is not an accurate comparison. I hope you find this information valuable.