Board of Education Candidate Forum of March 27, 2007 was held in the cafeteria of Leopold School.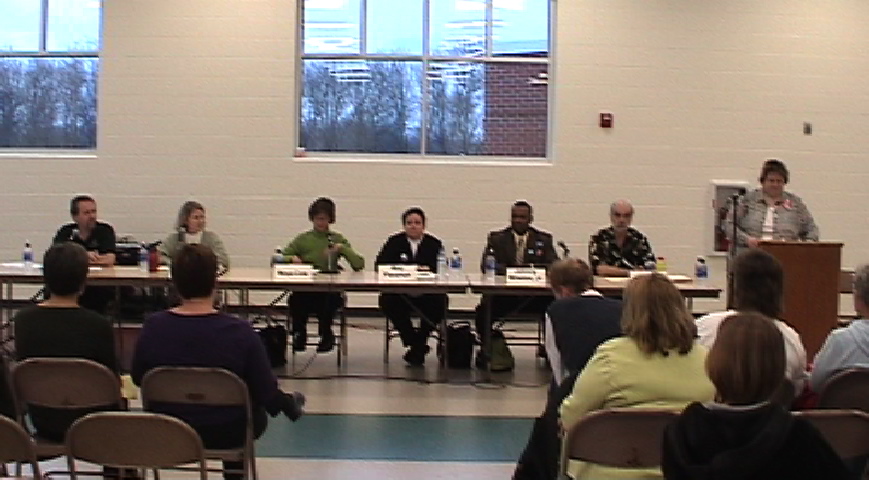 The video of the meeting is 160MB, and 1 hour and 50 minutes long. Click on the image at left to watch the video.
The video contains chapter headings which allow quick navigation to sections of the meeting. The video will play immediately, while the file continues to download.
Moderator: Laura Croft of the Middleton League of Women Voters
Panelists: (from left to right)
Rick Thomas and Beth Moss, vying for Seat 3
Maya Cole and Marj Passman, vying for Seat 5
Johnny Winston and Tom Brew, vying for Seat 4
The topics and questions covered are
Opening statements
Given that funding for TAG is again being cut, how would you raise money to support such programs?
How would you help coordinate the various PTO's and other community groups to improve school effectiveness?
How would you reduce the educational gap between poorer performing kids and more the successful without holding back the more successful kids?
The MMSD Administration is proposing to cut SAGE, how would you vote on this proposal and why?
Should community service be required of students before graduation?
More and more families are leaving the school district because their children are not being academically challenged. How would you deal with this issue?
What is your plan to handle the growth in the Leopold-Thoreau area?
Shorewood and Fitchburg parent coalitions are being formed to discuss creating their own school districts. Why are these parents so upset?
Since the average employee costs the district $50 per hour, shouldn't the budget gap remedy include employee wage and benefit sacrifices?
If you do not want to close schools, where else would you cut, and would that include school athletics?
Closing statements.