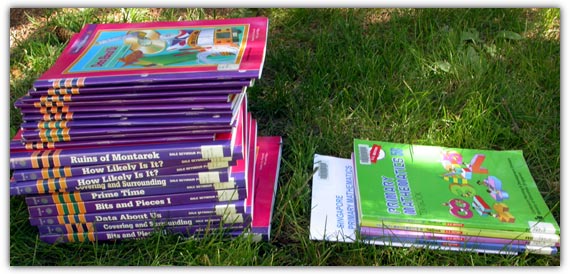 Connected Math textbooks for one year and the equivalent Singapore Math version.
Brandon Lorenz:
A recent meeting at Central Middle School attracted about 50 people to discuss concerns with the district's Connected Mathematics Project, a new constructivist approach that was introduced in sixth, seventh and eighth grades this year.
Another meeting for parents is scheduled for Dec. 13 at Horning Middle School.
Such new math programs rely on more hands-on activities and problem-solving skills than traditional programs.
Speaking with Zaborowski, Lynn Kucek said she was worried the math program would make it more difficult for her daughter, who does well in other subjects, to get into college.
More on Connected Math and the recent Math Forum.