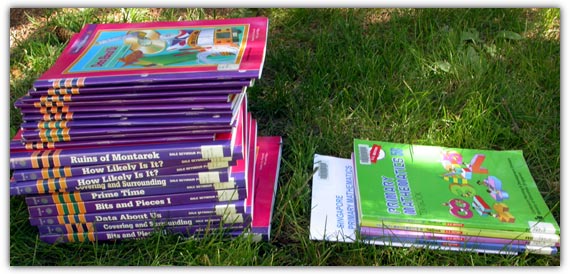 Jamaal Abdul-Alim:
The books are distributed by an Oregon-based company known as SingaporeMath.com, which counts a private school in Madison as the first of its growing number of clients.
The biggest difference between math instruction in Singapore – a city-state with a population of about 4.4 million – and the United States is a simple premise: Less is more.
Students in Singapore are introduced to roughly half the number of new math topics a year as students in the United States are. Experts and policy analysts say Singapore's emphasis on depth over breadth is a formula for success.
The thicker the textbooks and the greater the volume of math topics introduced a year, the less likely American students and teachers are to achieve similar results, says Alan Ginsburg, director of the policy and program studies service at the U.S. Department of Education.
More on the Connected Math / Singapore Math textbook photos.
Madison Country Day School was the first US school to purchase Singapore Math textbooks, in 1997, according to this article.