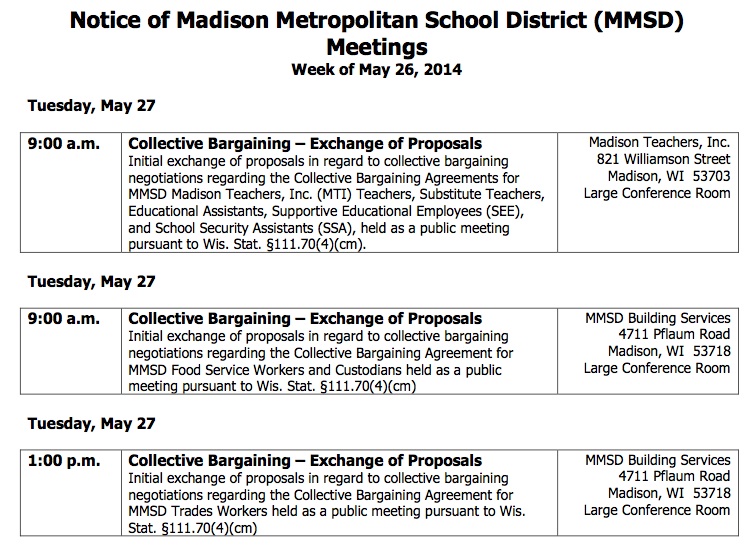 Act 10 duckduckgo google wikipedia
Madison Teachers, Inc. Solidarity Newsletter (PDF), via a kind Jeannie Kamholtz email::
School Board Decisions on Employee Health Insurance Contributions Could Further Reduce Wages

Under MTI's various Collective Bargaining Agreements, the District currently pays 100% of the health insurance premiums for both single and family coverage, but retains the ability to require employees to contribute up to 10% of the monthly premium for both single and family coverage.

District management has recommended to the Board of Education that they adopt a Budget which would allow for up to a 5% increase in health insurance premiums to be paid by the District. If the Board agrees, this would require employees to pay any increase above 5%, and insurance carriers of District plans currently propose premium increases greater than 5%. The Board is currently discussing whether to require the employee to pay the increase. If the Board does, that would further decrease employees' take-home pay. Even a 2% employee premium contribution would cost employees over $120 per year for the least expensive single coverage, and over $300 per year for the least expensive family coverage, i.e. any increase would compound the loss of purchasing power described above.
2014-2015 budget documents, to date.
Several articles on the legal controversy regarding Wisconsin "collective bargaining":

WILL to Madison School Board: Comply With Act 10 or Face Lawsuit.
Mary Burke (running for Governor) votes for labor talks with Madison teachers.
Madison School Board nearing extension of union contracts.
Madison School Board flouts the law in favor of teachers union.
Liberals look to one last chance to overturn Scott Walker's reforms, in a judicial election.
The Madison School District's substantial benefit spending is not a new topic.