Doyle Administration Building, 545 West Dayton Street, Madison [Map]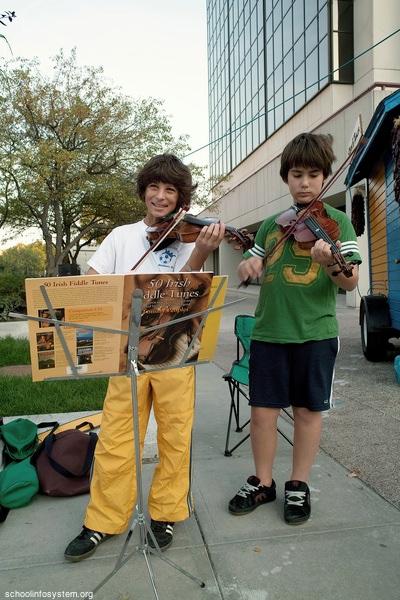 "The arts are not a luxury; they are essential". State Supt. of Public Instruction Elizabeth Burmaster
Being concerned about the effect of cuts to funding, staffing and instruction time on arts education and the effect of these cuts on low-income students and students of color, the Madison Metropolitan School District's (MMSD) Board of Education formed the district's Fine Arts Task Force in January 2007 to respond to three charges:
Identify community goals for Madison Metropolitan School District K-12 Fine Arts education including curricular, co-curricular and extra-curricular.
Recommend up to five ways to increase minority student participation and participation of low-income students in Fine Arts at elementary, middle and high school levels.
Make recommendations regarding priorities for district funding of Fine Arts.
Members of the Task Force will present the findings and recommendations to the MMSD School Board on Monday, October, 6, 2008, at 6:15 pm, in the McDaniels Auditorium of the Doyle Administration Building, 545 West Dayton Street, Madison.
Students, parents and the general public are encouraged to attend to show support for the role of the arts in ensuring a quality education for every MMSD student. Attendees can register in support of the report at the meeting.
Nineteen community members, including 5 MMSD students, were appointed by the School Board to the Task Force, which met numerous times from February 2007 through June 2008. The Task Force received a great deal of supportive assistance from the Madison community and many individuals throughout the 16 month information gathering and , deliberation process. More than 1,000 on-line surveys were completed by community members, parents, artists, arts organizations, students, administrators and teachers, providing a wealth of information to inform the task force?s discussions and recommendations.
The full Task Force report and appendices, and a list of Task Force members, can be found at http://mmsd.org/boe/finearts/.
Fine Arts Task Force Report [1.62MB PDF] and appendices:
For more information, contact Anne Katz, Task Force co-chair, 608 335 7909 | annedave@chorus.net.