Six years ago, 225 students graduated from St. Paul's Como Park High School. More than 70 percent went to college. Almost 40 percent got a degree.

That's the sort of information Minnesota educators and parents have long wished they had. Now, it is readily available for the first time on a newly launched website that shows where a high school's graduates went to college, how long they stayed on campus and how many graduated.

For state officials like Education Commissioner Brenda Cassellius, the information promises to highlight hidden success stories and inform policy decisions at a time of intense focus on college and career readiness. High schools can use it to assess how well they are preparing students and to spur partnerships with campuses popular with their graduates.

"This is a huge step forward in understanding how our students do when they leave us," said Joe Munnich, the St. Paul district's assistant director of research, evaluation and assessment. "It opens up amazing possibilities."

Of Minnesota's 2008 high school graduates, 69 percent went to a two- or four-year college, and 45 percent have since gotten a diploma. Eventually, the web site will also include information on how college graduates are faring on the job market.

The new data and web site are a joint effort by Minnesota's Office of Higher Education, the Departments of Education and the Department of Employment and Economic Development. The project is funded with the same federal grant that has supported the state's "Getting Prepared" reports, which show what portion of a high school's graduates had to take remedial courses in college.

Until now, high schools knew which of their students graduated in a given year. Higher education institutions knew which students arrived on their campuses and which stuck around until graduation. The state project linked up that data for each student.
This data has been discussed from time to time in Madison & Wisconsin. Yet, our Wisconsin DPI – parent of the oft criticized WKCE – seems to be living in the status quo.
It appears that the Wisconsin DPI spent $48,531,028.75 during 2013 according to the Wisconsin "Open Book" site.
Here's an example from Minnesota's "SLEDS" System: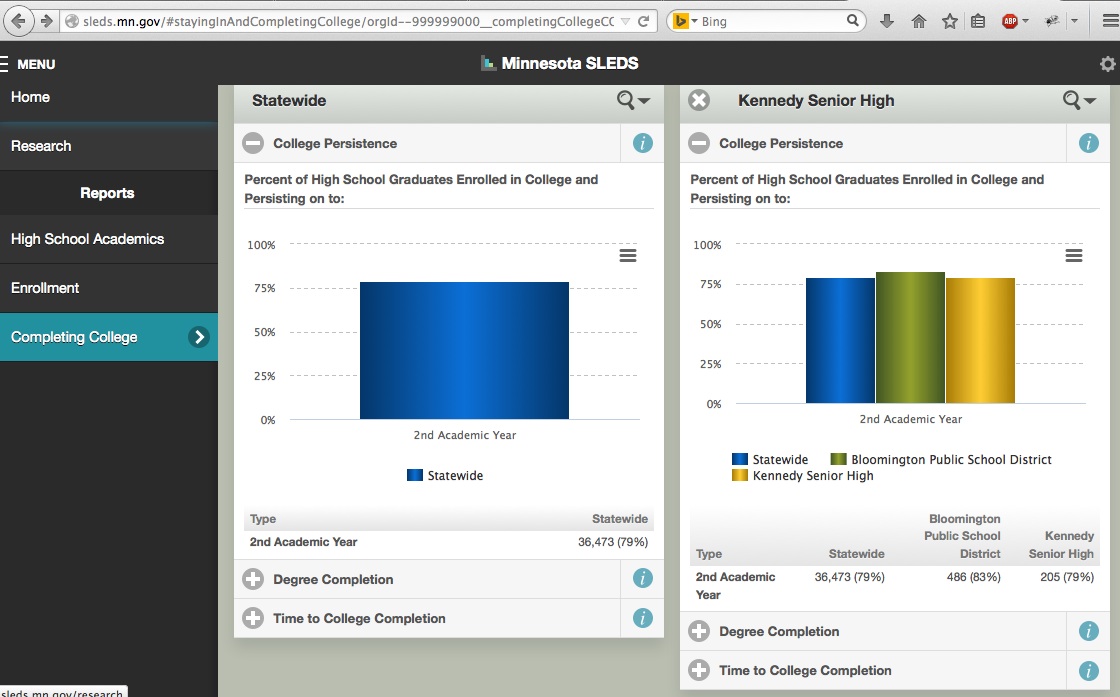 Dive in at the SLEDS site.