Why is EAGnews, the website for a Michigan-based "education reform" group — proudly pro-voucher, pro-charter school, anti-union and basically anti-public schools — blasting local Madison media outlets with alarming press releases about spending in the Madison School District?
To galvanize Madison citizens into demanding accountability from school district officials, says Steve Gunn, communications director for the group.
To promote EAG's pro-voucher agenda, say critics.
"Maybe we'll whet some taxpayers' appetite, and they'll march down there and ask, 'What are you spending my money on?'" Gunn said in a phone interview Thursday. The website is part of Education Action Group, a private nonprofit organization out of Muskegon, Mich.
The headline of the press release EAGnews sent to local media Thursday proclaims: "Madison schools spent $243,000 for hotels, more than $300,000 for taxis and more than $150,000 for pizza in 2012."
Well, actually it's $232,693 in hotel expenses in 2012 that EAG cites in the body of its press release and associated article. Beyond the discrepancy between headline and text, both press release and article mash together credit card expenses for travel by district employees with expenditures for routine district functions. In citing more than $300,000 in taxi cab charges paid to three local companies, EAG does not mention that the companies are hired to transport special needs, homeless and Work and Learn students to school and job placement sites.
Gunn admits that the taxi charges or the "cool $4.8 million" in payments to bus companies might be for transporting children, but says he doesn't know for sure because the school district did not deliver promised details about the spending list it released in response to an open records request.
"Wisconsin Wave" appears to be active on governance issues as well, including education, among others.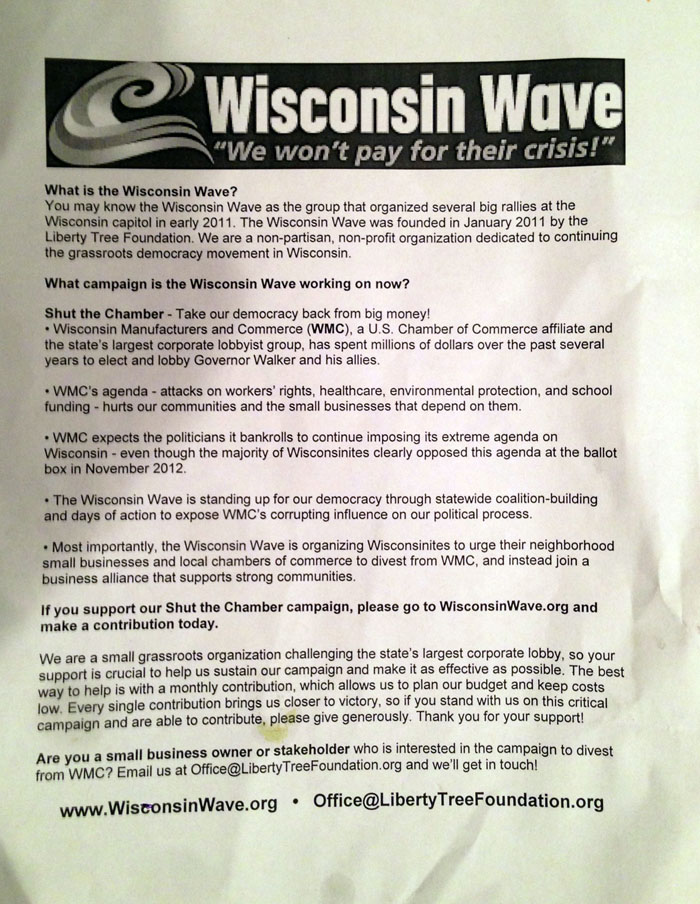 is a project of the Liberty Tree Foundation. The Liberty Tree Foundation appeared during the 2013 Madison School Board race due to Sarah Manski's candidacy and abrupt withdrawal. Manski's husband Ben is listed as a board member and executive director of Liberty Tree. Capital Times (the above article appeared on The Capital Times' website) writer John Nichols is listed as a Liberty Tree Foundation advisor.
Long-term disastrous reading scores are an existential threat to our local schools not vouchers