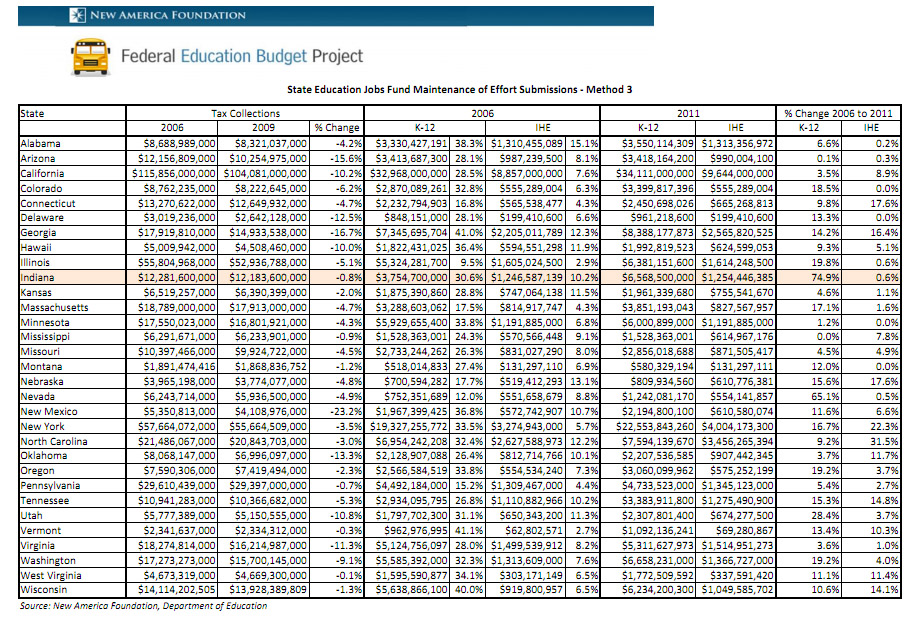 Jennifer Cohen, via a kind reader's email
Despite the revenue drops these state reported, their MOE submissions show that they increased education spending significantly from 2006 to 2011, particularly for K-12 education. For example, Utah's submission shows a 28.4 percent increase in funding for K-12 education from $1.8 billion to $2.3 billion. Oregon shows an increase of 19.2 percent and Illinois shows an increase of 19.8 percent. Increases in Indiana and Nevada are both over 65 percent. Only three states – Arizona, Minnesota, and Mississippi – showed increases below 3.0 percent.
Of course, it wouldn't be unusual for states to increase K-12 education spending over a 5-year period under more normal budget circumstances due to increasing enrollment and costs. What the MOE data could be telling us is that many states protected K-12 spending during the economic downturn that began in 2007.
But these numbers are also curious, if not dubious. Large contractions in state tax revenues and repeated media reports of states cutting education spending make some of these data difficult to believe.
The MOE data for the 31 states also show growth in higher education spending, though not at as high of rates as K-12 spending. New York State showed an increase of 22.3 percent from $3.3 billion to $4.0 billion from 2006 to 2011 and Connecticut showed an increase of 17.6 percent. But many states showed increases below 3.0 percent – 13, including Arizona, Colorado, Illinois, Pennsylvania, and Virginia. Low growth for higher education in many states is not surprising. States often make cuts (or delay increases) to higher education before K-12 education because it has a smaller constituency and they can rely on tuition increases to make up the difference. However, many public higher education systems have faced dramatic increases in enrollment as a result of the economic downturn, placing greater pressure on their strapped systems.
Fascinating rhetoric: the numbers tell us spending is up, but the writer mentions "data difficult to believe". In my brief 8+ years observing the K-12 world, spending always goes up. Some want it to increase more than others, which is where the "schwerpunkt" can be found.
View a chart of US State tax collections and Education (K-12 and Higher Ed) spending from 2006 to 2011.
Related: Wisconsin State Tax Based K-12 Spending Growth Far Exceeds University Funding