In his rural district, which serves 249 students, the 2011-13 state budget has been nothing to celebrate. In fact, it has accelerated a difficult process of belt-tightening that's been going on for almost 20 years due to revenue controls that have limited the amount districts can increase taxes to keep up with rising costs. The revenue controls hit some schools especially hard, especially those with declining enrollment, high-needs students or high property values. The new state budget's huge reduction in overall aid for schools — $793 million over the biennium — accompanied by new limits on how much money districts can raise in property taxes to offset those losses — has, for many school districts, made a bad situation worse.
According to Quinton, Pepin parents are supportive of education, and he credits his School Board and staff for helping run "a tight financial ship." Nonetheless, many of the district's programs and services have been trimmed once again, from transportation to teaching staff, athletics to academic assistance for at-risk students. Paring back has been a way of life in Pepin for many years, Quinton says, but the newest round of losses caused by this budget cut to the bone.
Related: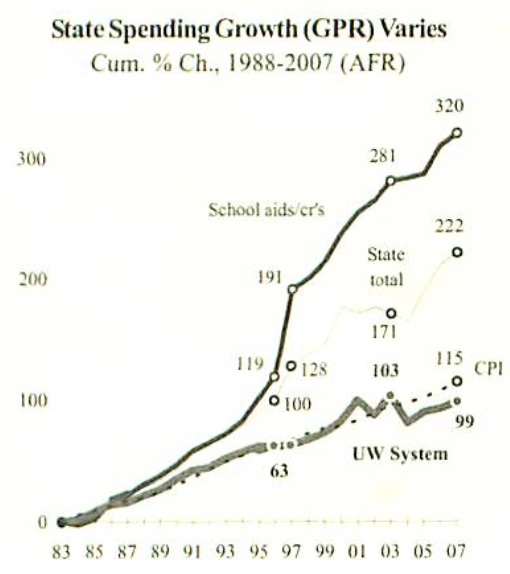 Wisconsin State Tax Based K-12 Spending Growth Far Exceeds University Funding and K-12 Tax & Spending Climate: Wisconsin State and Local Debt Rose Faster Than Federal Debt During 1990-2009 Average Annual Increase in State Debt, 7.8%; Local Debt, 7.3%
Wisconsin's essential challenge is to grow the economy. We've been falling behind Minnesota for decades.
Siobhan Hughes:
The U.S. economy will have another big budget deficit in fiscal 2011 and faces at least a couple more years of sluggish growth, as the effects of the recent recession persist, government forecasters said Wednesday.
The Congressional Budget Office projected a deficit of almost $1.3 trillion for fiscal 2011. Though that will mark the third straight year of deficits above $1 trillion, the deficit forecast was a slight improvement from the almost $1.4 trillion estimated in an April analysis and reflected higher-than-anticipated revenue from individual income taxes.
The outlook for the U.S. economy also remains challenging, with growth expected to remain too slow this year and next year to make a big dent in the unemployment rate. The jobless rate will fall to 8.9% by the end of calendar 2011 and 8.5% by the end of 2012, the forecast said, as the economy grows by 2.3% this year and 2.7% next year, measured from fourth quarter to fourth quarter.