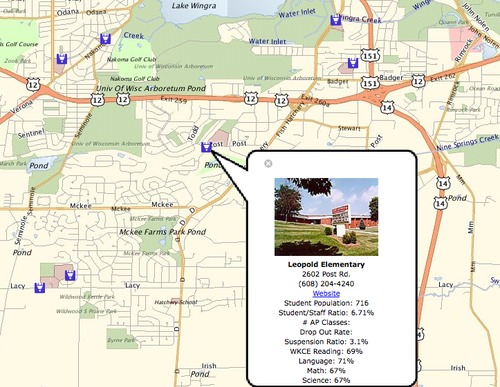 Click to view a map displaying Leopold and nearby schools.
Five days after Madison Metropolitan School District and Madison School Board officials learn if voters approved a referendum to help finance the district budget, they're expected to vote on options to ease overcrowding at Leopold Elementary.
Wisconsin State Journal & The Madison School District:
A long-term plan for coping with Leopold Elementary's crowded classrooms would be delayed until June, and the school's fifth graders would be shuttled to two middle schools for two years under a proposal released today by Madison schools Superintendent Daniel Nerad.
In a report to the Madison School Board, Nerad acknowledged that residents living in the Leopold area on Madison's South Side would prefer that a new school be built in the area.
However, he recommended the stopgap measures while delaying the long-term plan, which had been expected to be announced this fall. District officials have been studying the problem since April.
Under Nerad's plan, Leopold's fifth graders would attend Cherokee and Wright middle schools in the 2009-10 and 2010-11 school years. About three-fourths of the fifth graders would be sent to Cherokee.
Distance from Leopold Elementary to:
Much more on Leopold here.