Please write the School Board about what is important to you and your state legislature about funding our public schools. Following is a copy of my letter to the school board on Grade 5 strings:
Dear School Board Members (comments@madison.k12.wi.us),
I am happy to serve as a member of the newly created Fine Arts Task Force for the next year. The second charge to the committee is: " Recommend up to five ways to increase minority student participation and participation of low income students in Fine Arts at elementary, middle and high school levels."
I noticed in the Grade 5 strings report you received last week there was no information on low-income and minority student enrollment. Our task force received this specific demographic information at our March 26th meeting along with additional information, so I would like to share it with you, because I think it is important. As the program has been cut in the past two years, the low-income and minority student enrollment (numbers and percentage) has remained strong [but the cuts have affected hundreds of low-income students as the numbers show]. For this school year, 44% of the string students are minority students (47% of all Grade 5 students are minority students), and 35% of the string students are low income (44% of Grade 5 students are low income students). This information is captured in the attached Chart for the this year and the previous two years when the program was offered to students in Grades 4 and 5. I've also included information on special education student enrollment. I was not able to access ELL information for the previous years.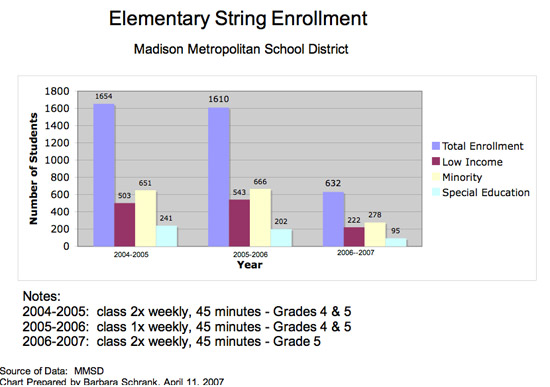 Decreasing academic opportunities to develop skills at a younger age is more likely to hurt participation at higher grades for low income and minority students who often lack support outside school to strengthen and reinforce what is learned in school either at home or through additional, private opportunities.
I hope you make the decision to give the Fine Arts Task Force an opportunity to complete its charge before making additional cuts to courses, because these cuts may prove to be more harmful to those students we want to reach than we realize. Also, if changes are made, I hope they are done equitably and with time for transitions. I'm asking this not only for arts education but also for other programs and activities Madison values in its public education. Eliminating elementary strings entirely would be the third year of major cuts in either funds or instruction time for students in this program. This seems to me to be overly harsh, especially when you consider that no extracurricular sports have been cut (nor would I support that).
Elementary strings is one arts course, but it has taught up to 2,000+ children in one year and is valued highly by parents and the community. I have 500+ signatures on a petition, which I will share with the board next week that says: "Madison Community Asks the MMSD School Board: Don't Cut, Work with the Community to Strengthen and Grow Madison's Elementary String Program. I have many emails with these signatures, and I'm planning to ask folks to write you about what this program means to them, so you hear their words and not only my words.
As I stated when I spoke before you earlier this year, there are those activities where a mix of public and private funding along with fees and grants might work for the arts and for extracurricular sports, for example. Please consider support of this and please consider helping with transitions toward different approaches.
Thank you for your hard work and support for public education.
Barbara Schrank
P.s. – note, I am speaking as an individual and not on behalf of the fine arts task force.
I would also like to add for SIS readers – I know due to the current financing scheme, the state is not funding public schools adequately nor fairly and is placing a huge burden on personal income and property taxes. I also know there have been cuts in previous years to the arts, increases in class sizes, fewer SAGE classes, etc. Just so you know, that is not the point of this letter. I see the need to work both locally and at the state. I also feel we need to be doing something more than referendums at the local level, and I don't mean cut or referendum. I think in the areas of extracurricular sports, some of the arts, we may be able to put in place a financial package of public, private, fees, grants – but this takes time and planning and commitment by our school board following public discussions on the topic.
Not all minority children are low income, but by far, the majority of low income children are minority. By not working with the community on funding for this high demand, highly valued program, several hundred fewer low income students are receiving skill-based training on an instrument, which scientific research is showing more and more has a positive effect on other areas of academics.
No where else in this city do so many low-income children have the opportunity to learn how to play an instrument and to do so as inexpensively per student. This is a program where "thinking outside the box" for the School Board could come in handy, so we can continue this academic program as part of the school day for so many children.