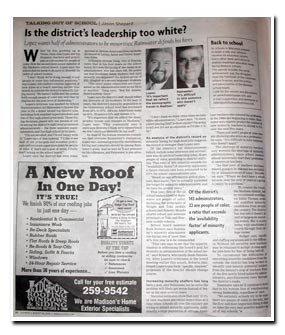 Click on the image to view the article.
Jason Shephard starts Isthmus's excellent biweekly Talking Out of School Column with a look at the Madison School District's minority hiring policies.
"I don't think we're doing enough to put people of color into influential positions," says [Board Member Juan Jose] Lopez, who halted a routine approval of new hires at a board meeting earlier this month to criticize the district's minority hiring record.

School Board Member Ruth Robarts says [Superintendent] Rainwater's minority administrator hiring rate of more than 40% this year is to be commended.
According to a note next to this article, Talking out of School will be available on Isthmus's website. We'll link to those, of course.