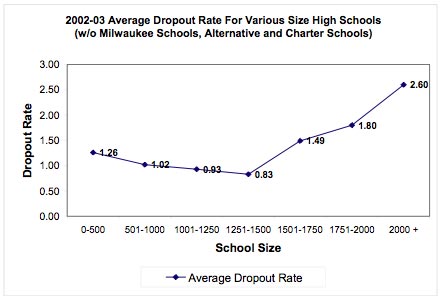 The Sun Prairie School District's increasingly active weblog:
On August 9, 2005, a public hearing was held on the proposed high school facilities in Sun Prairie. At the hearing a question was asked regarding the high school drop-out rates for all Wisconsin public high schools. Drop out rates refer to the percent of students who do not complete a high school education We have compiled information for three years for all public school districts except the Milwaukee Public Schools. The data is the latest information available from DPI. A clear pattern is evident over the three years. It is apparent that as high schools grow above 1500 students, the percentage of drop-outs doubles and triples over that of high school with enrollments between 1000-1500.
Sun Prairie is planning to construct two new, smaller higher schools rather than one very large facility.