"We are not interested in the development of new charter schools"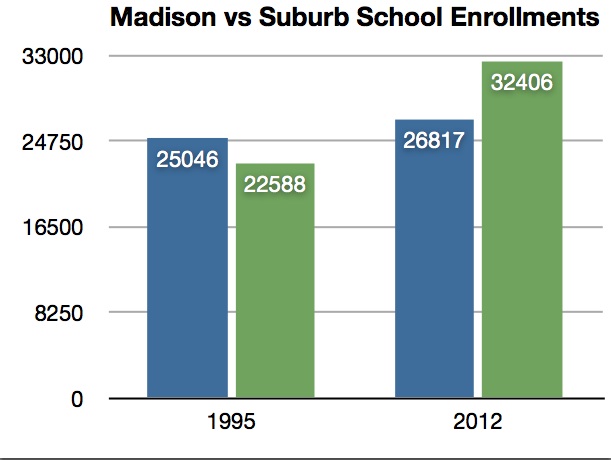 Larry Winkler kindly emailed the chart pictured above.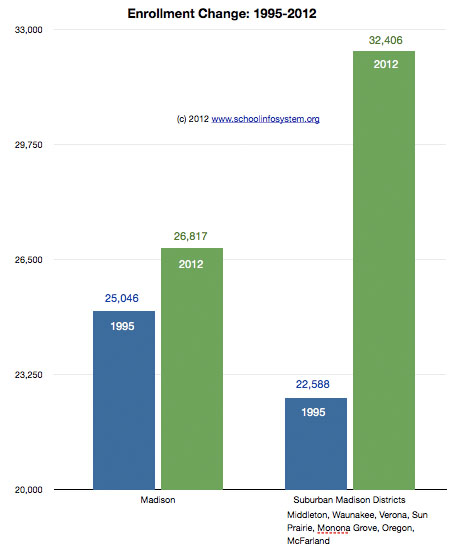 Where have all the Students gone?

Madison Mayor Paul Soglin:
We are not interested in the development of new charter schools. Recent presentations of charter school programs indicate that most of them do not perform to the level of Madison public schools. I have come to three conclusions about charter schools. First, the national evidence is clear overall, charter schools do not perform as well as traditional public schools. Second where charter schools have shown improvement, generally they have not reached the level of success of Madison schools. Third, if our objective is to improve overall educational performance, we should try proven methods that elevate the entire district not just the students in charter schools. The performance of non-charter students in cities like Milwaukee and Chicago is dismal.

In addition, it seems inappropriate to use resources to develop charter schools when we have not explored system-wide programming that focuses on improving attendance, the longer school day, greater parental involvement and combating hunger and trauma.

We must get a better understanding of the meaning of 'achievement gap.' A school in another system may have made gains in 'closing' the achievement gap, but that does not mean its students are performing better than Madison students. In addition, there is mounting evidence that a significant portion of the 'achievement gap' is the result of students transferring to Madison from poorly performing districts. If that is the case, we should be developing immersion programs designed for their needs rather than mimicking charter school programs that are more expensive, produce inadequate results, and fail to recognize the needs of all students.

It should be noted that not only do the charter schools have questionable results but they leave the rest of the district in shambles. Chicago and Milwaukee are two systems that invested heavily in charter schools and are systems where overall performance is unacceptable.
Related links:
I am unaware of Madison School District achievement data comparing transfer student performance. I will email the Madison School Board and see what might be discovered.
Madison Mayor Paul Soglin has some pretty strong ideas about how to improve academic achievement by Madison school children. Charter schools are not among them.

In fact, Madison's ongoing debate over whether a charter school is the key to boosting academic achievement among students of color in the Madison Metropolitan School District is distracting the community from making progress, Soglin told me.

He attended part of a conference last week sponsored by the Urban League of Greater Madison that he says overstated the successes elsewhere of charter schools, like the Urban League's controversial proposed Madison Preparatory Academy that was rejected by the Madison School Board a year ago.

"A number of people I talked with about it over the weekend said the same thing: This debate over charter schools is taking us away from any real improvement," Soglin said.

Can a new committee that Soglin created -- bringing together representatives from the school district, city and county -- be one way to make real progress?
The
City of Madison's Education Committee
, via a kind reader's email. Members include:
Arlene Silveira
,
Astra Iheukemere
,
Carousel Andrea S. Bayrd
,
Erik Kass
,
Jenni Dye
,
Matthew Phair
,
Maya Cole
and
Shiva Bidar-Sielaff
.
Posted by Jim Zellmer at December 12, 2012 1:22 PM
Subscribe to this site via RSS/Atom:

Newsletter signup | Send us your ideas