Madison Schools "Individual Endowments"
Foundation for Madison Public Schools:
The Foundation for Madison's Public Schools developed the Individual School Endowment Initiative, which is unique in the country. This initiative was designed to build an endowment fund for each of the 48 schools in the district. Through the generosity of John Taylor and the Clay-Price Fund, each school was offered a challenge grant of $5,000. Schools needed to raise $5,000 toward the establishment of an endowment fund in order to earn the $5,000 match and establish their $10,000 Individual School Endowment Fund. We are thrilled to announce that as of June, 2007, all 48 schools had met the match and established endowment funds. 32 schools have endowment fund balances greater than $20,000 and 6 schools have over $50,000 in their endowments. This initiative has raised over $1.45 million and endowment balances continue to grow. Our long-term goal is to see every school have a $50,000 endowment as well as a mutually beneficial relationship with a community partner. To that end, we have established our Adopt-A-School Program.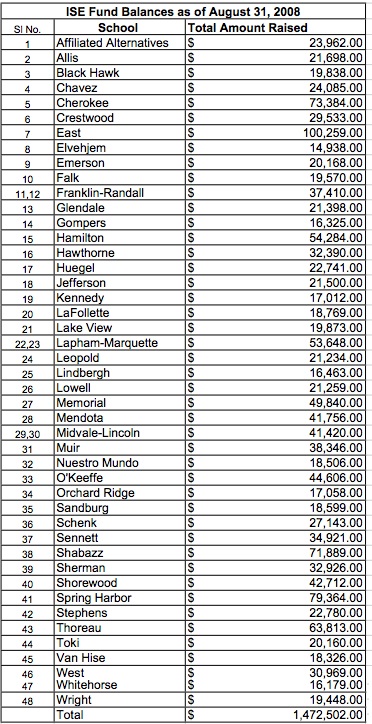 2008 FMPS Grants
:
$10,000
Madison - Our History
Dept of T/L

This proposal would support the completion of Phase II of this project to write a book, Madison-City of Four Lakes, Our History and Our Home and the accompanying curriculum for third grade history instruction for Madison schools. Phase II includes funding for the graphic artist to complete the layout for the book and printing 2000 copies and the web based construction.
$9,120
AVID Summer Training
East High School

AVID is a program designed to provide underachieving and underserved populations training for skills they will need to be successful in advanced level high school courses and four year college programs. This grant would support summer training for teachers at the AVID institute.
$9,900
Literacy Initiative Grant
East High School

This proposal would fund 5 and 1/2 days of training for 12 East High teachers to learn content area reading strategies across all major content areas. The professional development is part of a sustained coordinated effort to improved literacy at East. Funds would also support some of the materials necessary to implement literacy instruction.
Posted by Jim Zellmer at September 27, 2008 1:33 AM
Subscribe to this site via RSS/Atom:

Newsletter signup | Send us your ideas