Madison Schools, New Population, New Challenges
Twenty-five years ago, less than 10 percent of the district's students were minorities and relatively few lived in poverty. Today, there are almost as many minority students as white, and nearly 40 percent of all students are considered poor - many of them minority students. And the number of students who aren't native English speakers has more than quadrupled.

"The school district looks a lot different from 1986 when I graduated," said Madison School Board member Johnny Winston Jr.

The implications of this shift for the district and the city of Madison are huge, city and school officials say. Academic achievement levels of minority and low-income students continue to lag behind those of their peers. Dropout, suspension and expulsion rates also are higher for minority students.

"Generally speaking, children who grow up in poverty do not come to school with the same skills and background" that enable their wealthier peers to be successful, Superintendent Art Rainwater said. "I think there are certainly societal issues that are race-related that also affect the school environment."

While the demographics of the district's students have changed dramatically, the makeup of the district as a whole doesn't match.

The overall population within the school district, which includes most of Madison along with parts of some surrounding municipalities, is predominantly white and far less likely to be poor. And most taxpayers in the district do not have school-age children, statistics show, a factor some suggest makes it harder to pass referendums to increase taxes when schools are seeking more money.

Forty-four percent of Madison public school students are minorities, while more than 80 percent of residents in the city are white, according to U.S. Census figures for 2000, the most recent year available. And since 1991, the percentage of district students who qualify for free or reduced-price lunches has nearly doubled to 39 percent; in 2000, only 15 percent of Madison's residents were below the poverty level.

Although the city's minority and low-income population has increased since the 2000 census, it's "nowhere near what it is in the schools," said Dan Veroff, director of the Applied Population Laboratory in UW- Madison's department of rural sociology.
Barb Schrank asked "
Where have all the Students Gone
? in November, 2005: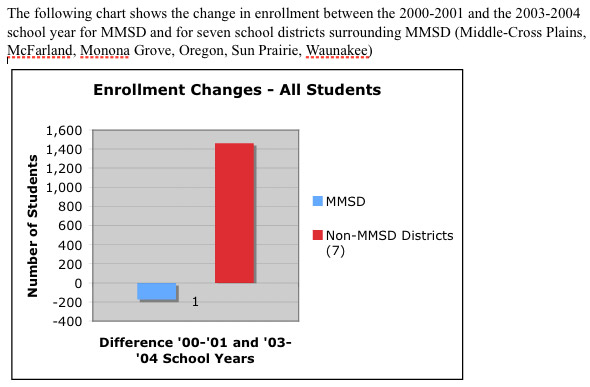 There's a lot more at work in the MMSD's flat or slightly declining enrollment than Cullen's article discusses. These issues include:
Thoreau's most recent PTO meeting, which included 50 parent and teacher participants, illustrates a few of the issues that I believe are driving some families to leave: growing
math curriculum concerns
and the recent imposition of
mandatory playground grouping
without any prior parent/PTO discussion.
Student losses, or the MMSD's failure to capture local population growth directly affects the district's ability to grow revenue (based on per student spending and annual budget increases under the state's revenue caps).
The MMSD's failure to address curriculum and govenance concerns will simply increase the brain flight and reduces the number of people supporting the necessary referendums. Jason Shepherd's recent article is well worth reading for additional background.
Finally, Mary Kay Battaglia put together some of these numbers in December with her "This is not Your Grandchild's Madison School District".
Posted by Jim Zellmer at April 16, 2006 6:16 AM
Subscribe to this site via RSS/Atom:

Newsletter signup | Send us your ideas