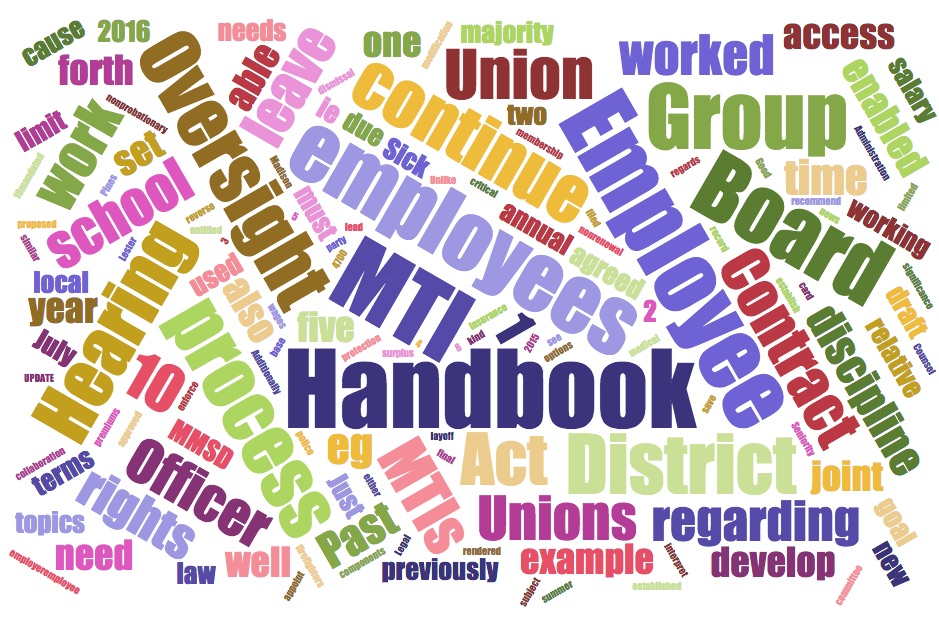 Madison Teachers, Inc., via a kind Jeanie Kamholtz email (PDF):
Of the grievance procedure, MTI Legal Counsel Lester Pines said:
"I congratulate MTI and its sister Unions of District employees (AFSCME and The Building Trades Council) for achieving an agreement that the Independent Hearing Officer will be mutually selected by the Union and the District (Act 10 would have enabled the Board of Education to unilaterally appoint the Hearing Officer), and that a grievance can be filed regarding extensive provisions included in the Handbook (Act 10 would limit grievances to termination, discipline and issues regarding work-place safety), and further achieving a limit on what the Board can consider should an appeal of the Hearing Officer's ruling, enabled by the Statute, be made to the Board. That the Unions gained agreement that the Board cannot consider anything other than the evidence, testimony and decision by the Hearing Officer; i.e. the Board cannot consider any new claims, evidence or testimony, ONLY that on which the Hearing Officer based his/her decision. That provides anexceptionalsafeguardforDistrictemployees.MTI leads the way again.

Act 10 prohibits a Union from negotiating the binding arbitration of grievances. The law provides that every municipal employer, including school districts, must adopt a grievance procedure containing: (1) a written document specifying the process that a grievant and the employer must follow; (2) a hearing before an Independent Hearing Officer; and (3) an appeal process in which the highest level of appeal is to the governing body of the local unit of government (i.e., Board of Education). The law limits the grievance procedure to termination, discipline and issues regarding work-place safety and it enables the employer (Board of Education) to unilaterally select the Independent Hearing Officer. As noted, MTI was able to significantly improve the latter two categories to the benefit of Union members."
Deep dive: Madison Government School District Power Play: The New Handbook Process is worth a look.