Notes and charts from the Districts' most recent 2015-2016 budget document (5MB PDF):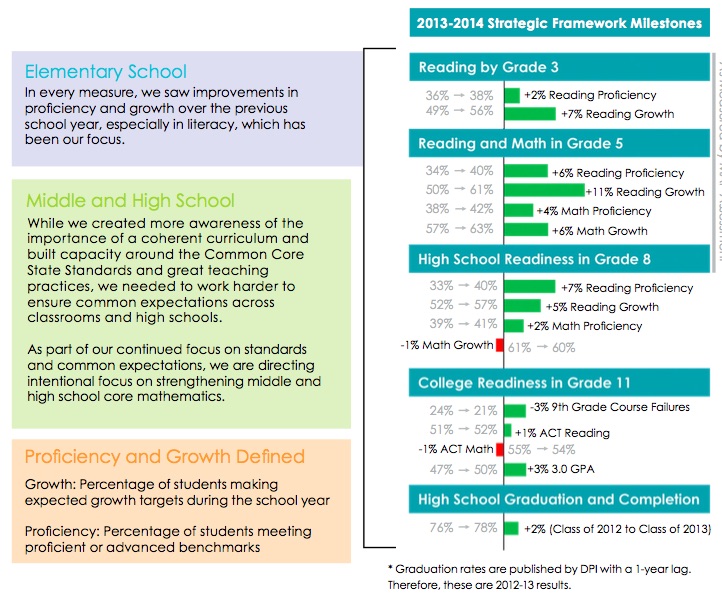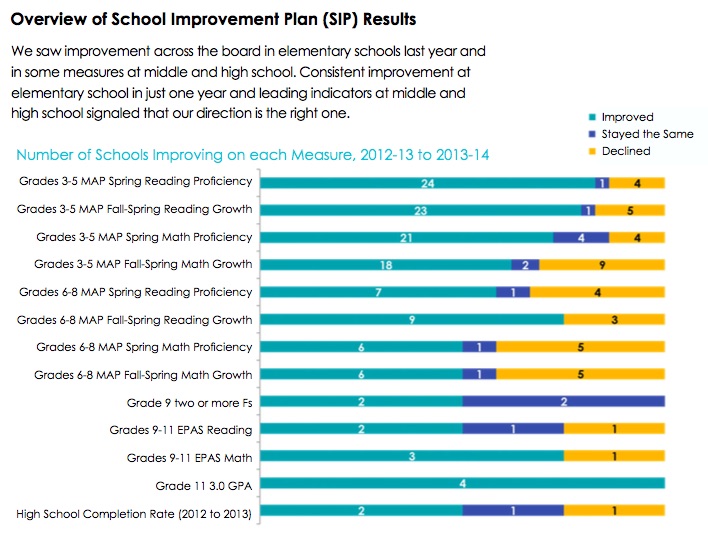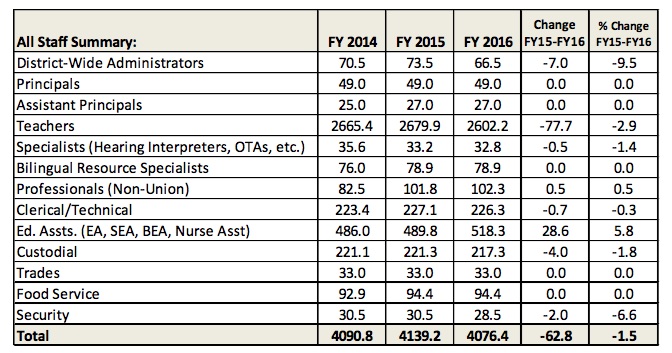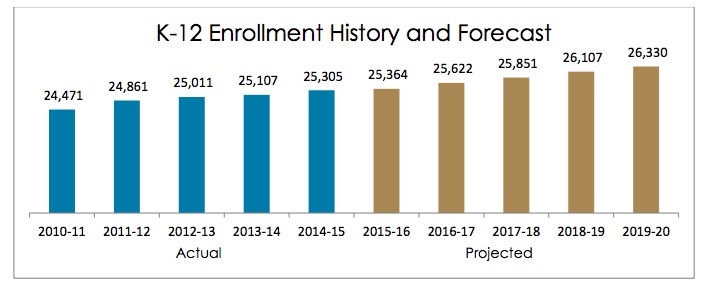 Our 25,364 students are served by 4,076 Teachers & Staff (6.22 students per District employee).
Salaries and Wages
For 2015-16, MMSD has collective bargaining agreements in place with its represented employee groups, including teachers, aides, clerical, and custodial staff. The teachers' collective bargaining agreement is based on a traditional salary schedule, including compensation components for additional years of service (step movement) and additional professional development (lane movement). In addition,

the Board approved an increase of 0.25% per cell for all teachers (cell increase). Together, the additional compensation for step movement and cell increases provides an average increase of 1.75% to employees, plus a reserve for lane changes of $400,000, for a combined budgetary impact of $4.5 million on district salaries. This budget proposal includes funding for these wage and salary commitments. MMSD's other employee groups will experience similar increases in compensation.
Health Insurance

MMSD offers an attractive employee benefits plan to its employees. The district spends over $61 million per year on health insurance premiums, which is approximately 15% of the total district budget. Each year, the risk of rising health care costs creates significant budget uncertainty for the district: each one percent increase in health insurance rates costs MMSD about $610,000. The implementation of the Affordable Care Act brings additional fees and responsibilities for employers, including the requirement to offer affordable and valuable coverage to all employees who work 30 or more hours per week, starting July 1, 2015. Although the exact impact of this requirement is not yet known, MMSD could be required to provide coverage to approximately 120 employees not currently eligible for health insurance benefits.
The district contracts for health insurance with three Madison area HMOs. Group Health Cooperative (GHC) has covers approximately 60% of MMSD employees, while Dean and Unity each cover approximately 20%. Negotiations are continuing for July 1, 2015 rate renewals. The district, in collaboration with employee representatives, are working to minimize the budget impact for 2015-16. An update on the current status of health insurance rate renewals will be presented to the Board in May.

This year, MMSD launched its employee wellness program, which was developed with the input of the employee unions. A team representing a broad spectrum of employees has been selected to design the program activities and support district wellness. In addition, employees are asked to sign up for biometric screenings and health risk assessments, which will provide information that can be used to develop programs that meet the needs of MMSD employees and help curb long-term health care cost increases.

Mitch Henck Comments on Madison's Spending and Tax Practices: