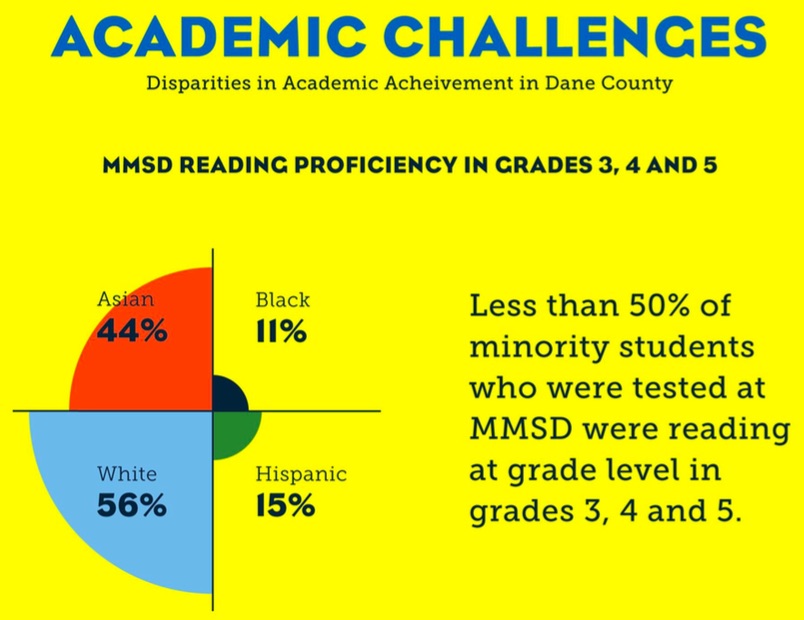 Kaleem Caire, via a kind email:
We had a great time at our campaign kick-off event for One City Early Learning Centers at the CUNA Mutual Conference Center on March 6! More than 350 friends and champions for children joined us on a Friday night to learn about our plans to raise $1.4 million to establish a new type of preschool in the Madison area.

One City will take a two-generation community impact approach to providing young children with the learning and developmental experiences they need to become compassionate and high potential learners, leaders and students in school and life, and to be reading-ready by the time they reach kindergarten.

Attendees learned about our three strategic priorities:

Empowered and Happy Children
Strong and Happy Families, and
Healthy and Resource-Filled Neighborhoods

We shared our educational approach and plans for establishing One City's Parent University and Family Resource Network. We highlighted the partnerships we are developing to support strong families and cultivate talented and successful children. We also shared how One City will be an active partner in efforts to continue the revitalization of South Madison. We want to ensure that children in our neighborhood and preschool are raised in safe, sustainable and enriching environments, and that parents have access to high quality, affordable and accessible early education opportunities for their children while they work and continue their education.

Additionally, Forward Community Investments announced their purchase of the South Madison Day Care facility for One City. This marks the first time FCI has purchased property and made such an investment in their 19-year history. The details of this unique partnership inspired everyone in attendance and we raised $40,126 towards our goal that night!

Thank you for your support, encouragement and partnership. We appreciate you! We also thank and appreciate CUNA Mutual Group Foundation, Forward Community Investments and Urban Assets Consulting for hosting and supporting the event, and supporting the launch of One City.

Building the Bridge to a Bright Future for Kids.

Onward.

Kaleem Caire
Founder, President & CEO
kcaire@onecityearlylearning.org
Phone: 608.268.8004

LEARN MORE

To take a virtual tour of our preschool (pre-renovation), which is located at 2012 Fisher Street on Madison's South Side, click here.

To view photographs of our kick-off event, click here. As Dr. Frank Byrne, the recently retired president of St. Mary's Hospital noted, "One City was here in this room this evening. It was beautiful."

To review and download the PowerPoint presentation we gave at the kick-off event, and that many in attendance expressed an interest in obtaining, click here. To arrange a presentation, please contact Quinn Heneghan at quinn@urbanassetsconsulting.com or 608.819.6566.

To view a list of our early supporters, our Bridge Builders, click here.

Give what you can. We've had investors contribute $10, $10,000 and $50,000. We want as many people, businesses and institutions to contribute as possible so we can (a) achieve our fundraising goal, (b) get our school opened by September 1, 2015 and (c) live out the meaning and intent of our name – One City coming together to invest in the potential and future of its children.

To make your tax-deductible investment in One City and join our list of Bridge Builders – click here. You can also download and complete our pledge form by clicking here and mailing it along with your contribution (payable to One City Early Learning) to:

One City Early Learning Centers
c/o Scholz Nonprofit Law
16 North Carroll Street, Suite 530
Madison, WI 53703
Phone: 608.268.0076
Related:
Madison's long term, disastrous reading results.
Kaleem Caire attempted to create the Madison Preparatory Academy IB Charter School. Unfortunately, it was rejected by a majority of the Madison School Board.