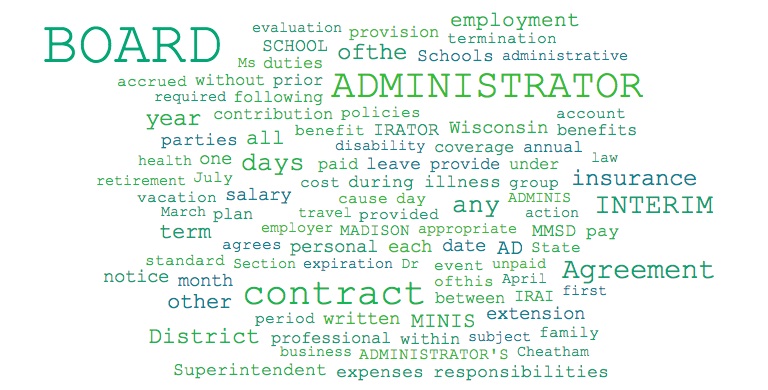 630K PDF Contract between Superintendent Cheatham and the Madison School District.
The lack of Superintendent oversight was an issue during the Rainwater era. Superintendent Cheatham's contract includes this:
14.01 At least once each year, the BOARD of Education will provide the ADMINISTRATOR with an evaluation
a. The annual evaluation shall occur in closed session.
b. Prior to the BOARD conducting the SUPERINTENDENT'S evaluation, the SUPERINTENDENT shall provide the BOARD a self-appraisal. The BOARD shall take this self-appraisal into account in conducting its evaluation
c. All forms used and report formats requested as part of the evaluation process shall be collaboratively developed and mutually agreed upon by the ADMINISTRATOR and the BOARD.
d. While individual opinions may be expressed in the evaluation process, the final written record of performance evaluations shall include only narrative statements or opinions endorsed by a majority of the BOARD. The written evaluation shall be considered confidential to the extent permitted by law
Related: A Look At Compensation Packages for Wisconsin School District Superintendents.
Yet, reading, an issue for years in the Madison School District, remains a disastrous problem.