Wisconsin Reading Coalition (PDF), via a kind email:
he National Center for Education Statistics has released the 2013 scores from the National Assessment of Educational Progress, sometimes called the "Nation's Report Card." While the press has rightly focused on Wisconsin's scores for black students (lowest in the country) and the black-white gap (largest in the country), the data indicates many other areas of concern. Here are some major takeaways from the critical 4th grade reading performance:

Wisconsin's average score (221) in 2013 is identical to 2011, and is statistically unchanged from our first NAEP score (224) in 1992.While we have remained stagnant, many other jurisdictions have seen statistically significant increases.
Wisconsin ranked 31st out of 52 jurisdictions that participated in NAEP this year. In 1994, we ranked 3rd.
Since 2007, the number of jurisdictions scoring significantly lower than Wisconsin has shrunk from 21 to 11. The number scoring significantly higher has grown from 8 to 15. Wisconsin sits in the lower half of the "middle" group of 26 jurisdictions.
Only 8% of Wisconsin students scored at the advanced level, while 32% were below basic, the lowest level.
Compared to their peer groups nationwide, Wisconsin's white, black, Hispanic, Asian, low income, and disabled students all scored below their respective national averages.
Wisconsin had the lowest scores for black students in the nation.
Wisconsin had the largest gap between white and black students in the nation.

How will Wisconsin respond?
Social and economic disadvantages affect achievement for many students, but other states do better at mitigating those realities. Wisconsin must look within the education system itself for improvement opportunities, starting with teacher preparation. Beginning in 2014, the Foundations of Reading exam will require prospective teachers to understand the science of reading that is woven through the Common Core State Standards and that is necessary for successful intervention with struggling readers. As DPI revises the regulations governing educator licensure and preparation program approval, it will be important to align them with the only comprehensive guidelines available, the Knowledge and Practice Standards for Teachers of Reading (Moats, Carreker, Davis, Meisel, Spear-Swerling, Wilson, 2010), and to encourage independent, objective program reviews for campuses. Equally important, our state and districts need to provide practicing teachers with that same knowledge of language structure and reading acquisition, and to track the impact of professional development on student performance outcomes. Programs like LETRS from Sopris Learning and the online coursework and coaching offerings from the Science of Reading Partnership deserve attention. Only then can we hope to see student outcomes begin to reflect the efforts of our dedicated educators.
The pie charts below show the breakdown of proficiency levels of Wisconsin students as a whole and broken into sub-groups. The line graphs show the trend over time in Wisconsin scores compared to Massachusetts, Florida, and Washington, D.C., where the science of reading has found a greater acceptance in education, as well as the changes in national ranking for Massachusetts, Florida, and Wisconsin.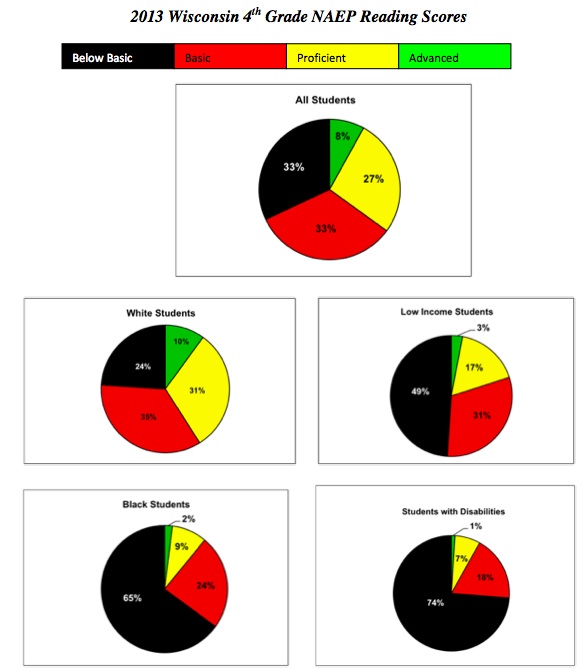 Related: Madison's disastrous reading results and Wisconsin adopts the MTEL-90 (Massachusetts) elementary teacher English content knowledge requirements.