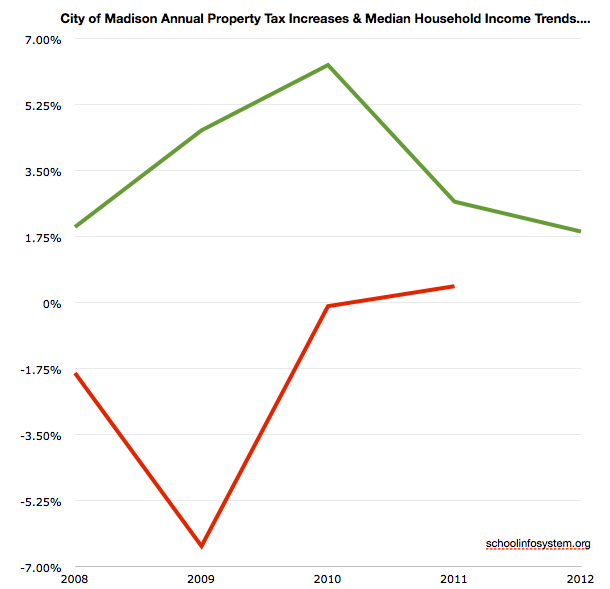 More charts on Madison schools' spending & property tax growth over the years, here.

Karen Rivedal:
The Madison School Board will hold a one-hour public hearing at 5 p.m. Monday on a preliminary $391 million budget proposal for the 2013-2014 school year, in the McDaniels Auditorium of the Doyle Administration Building at 545 W. Dayton St.
After the hearing, the board is to vote on the budget, which includes a $260.4 million property tax levy, increasing the tax bill on an average $230,831 Madison home by about $102. The board will take a final vote on the tax levy in October, after official state aid figures are known.
Related: Madison Schools' 2013-2014 Budget Charts, Documents, Links, Background & Missing Numbers.
Finally, Rivedal's article fails to mention this: Up, Down & Transparency: Madison Schools Received $11.8M more in State Tax Dollars last year, Local District Forecasts a Possible Reduction of $8.7M this Year. Local household income changes are unmentioned, as well (national data).
Much more on the 2013-2014 Madison schools' budget, here.
A Middleton home paid $4,648.16 in 2012 while a Madison home paid 16% more, or $5,408.38. Local efforts to significantly increase property taxes may grow the gap with Middleton..
Rivedal's article is unfortunately a classic "low information" piece. It would not take much effort to challenge the new Superintendent's rhetoric on "state funding decline". The prior year's significant increase goes unmentioned.
Is it the State Journal's policy to simply publish rhetoric without investigation?