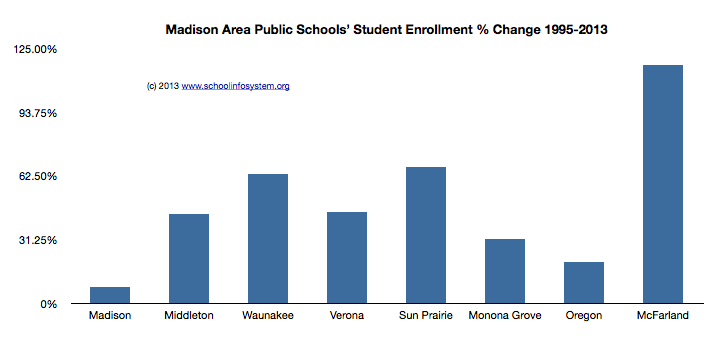 Where have all the students gone?
Madison School Board President Ed Hughes:
Esenberg sets out to identify the fundamental differences between voucher advocates and opponents. His thesis is that views on vouchers derive from deeper beliefs than objective assessments of how well voucher schools perform or concerns about vouchers draining funds from public schools. To him, your take on vouchers depends on how you view the world.
Esenberg asserts that voucher advocates are united by their embrace of three fundamental principles: that a centralized authority is unlikely to be able to decide what is best for all; that families should be trusted to select their children's schools since ordinary people are capable of making choices for themselves without paternalistic direction; and that "government does not do diversity, experimentation and choice very well."
By implication, he asserts that voucher opponents think that a centralized authority will be able to decide what's best for all, that families shouldn't be trusted to make choices for their children, and that government control is the best way to foster innovation.
And there you have it. Your views on school voucher expansion are entirely explained by whether you prefer individual freedom, like the voucher advocates, or stultifying government control, like the voucher opponents. In cinematic terms, voucher opponents are the legions of lifeless, gray drones in Apple's famous 1984 commercial and voucher supporters are the colorful rebel, bravely challenging the control of Big Brother and hurling her sledgehammer to smash mindless conformity. You couldn't ask for a more sophisticated analysis than that, could you?
While his thesis invites mockery, Esenberg's short article does present a bit of a challenge to voucher opponents like myself. Can we set out a coherent justification for our opposition that doesn't depend on the facts that voucher schools drain needed resources from public schools and don't perform any better? Sweeping those fairly compelling points aside, Esenberg asks, in effect, what else you got?
Mr Hughes anti-voucher rhetoric is fascinating on several levels:
1. The Madison School District's long term, disastrous reading results. How much time and money has been wasted on anti-voucher rhetoric? Reading has long been job one.
2. Local private schools do not have much, if any availability.
3. Madison spends double the national average per student (some of which has been spent on program explosion). Compare Milwaukee Public and Voucher Schools' Per Student Spending.
4. Madison's inability to address its long-term disastrous reading results will bring changes from State or Federal legislation or via litigation.
5. Superintendent Cheatham cited Long Beach and Boston as urban districts that have "narrowed the achievement gap". Both districts offer a variety of school governance models, which is quite different than Madison's long-time "one size fits all approach".
I recall being astonished that previous Madison School District administrators planned to spend time lobbying at the State level for this or that change – while "Rome is burning". Ironically, Superintendent Cheatham recently said:
"Rather than do a lot of work on opposing the voucher movement, we are going to focus on making sure our schools are the best schools possible and the schools of choice in Madison," Cheatham said.
This points up one of the frustrating aspects of trying to follow school issues in Madison: the recurring feeling that a quoted speaker – and it can be someone from the administration, or MTI, or the occasional school board member – believes that the audience for an assertion is composed entirely of idiots.
A great, salient quote. I would hope that the District would focus completely on the matter at hand, disastrous reading scores. Taking care of that problem – and we have the resources to do so – will solve lots of other atmospheric and perception issues.
In closing, I sense politics in the voucher (and anti-open enrollment) rhetoric. Two Madison School Board seats will be on the Spring, 2014 ballot. One is currently occupied by Mr. Hughes, the other by Marj Passman. In addition, local politics play a role in becoming school board President.