15mb mp3 audio.

Superintendent Cheatham's slides follow (4MB PDF version). I hope that the prominence of Madison's disastrous reading scores – slide 1 – indicates that this is job one for our $15,000ish/student organization.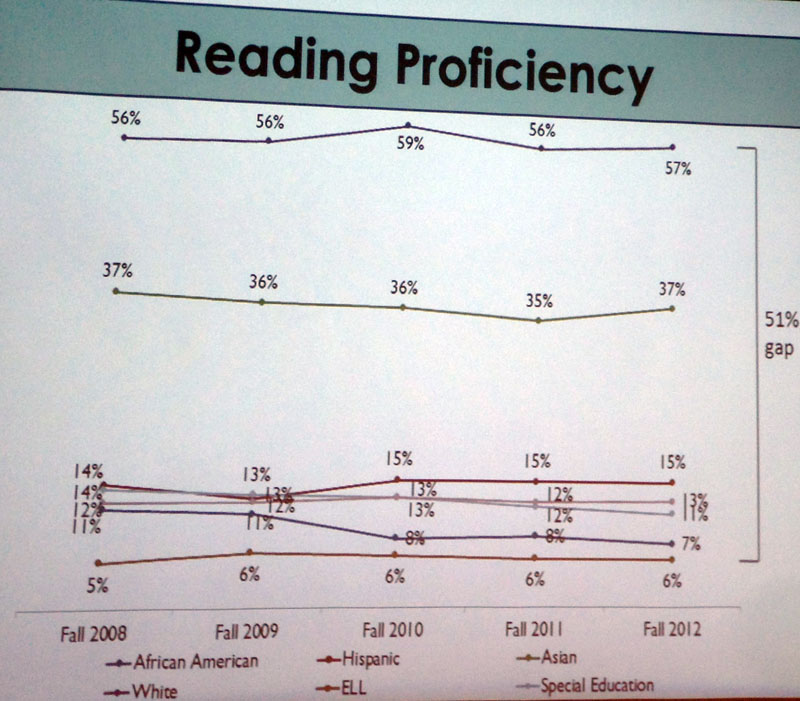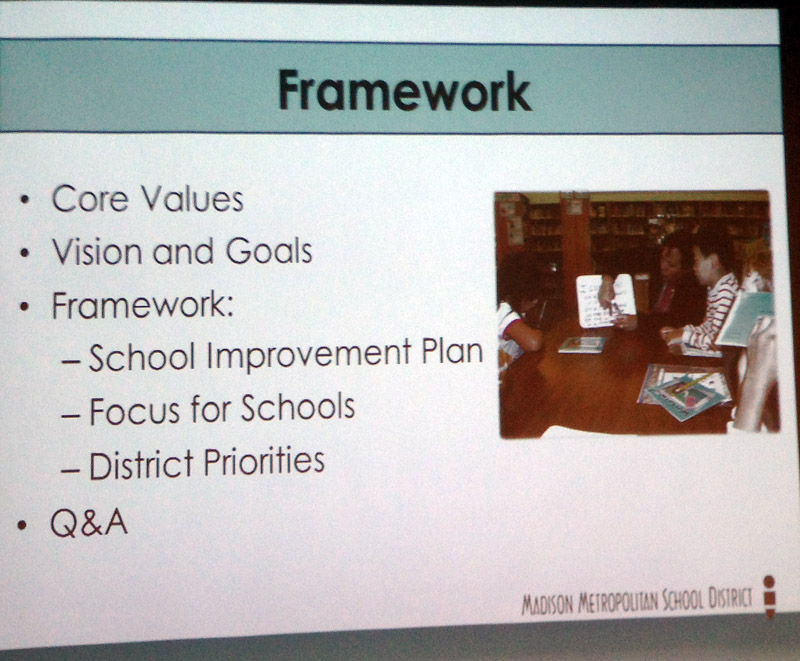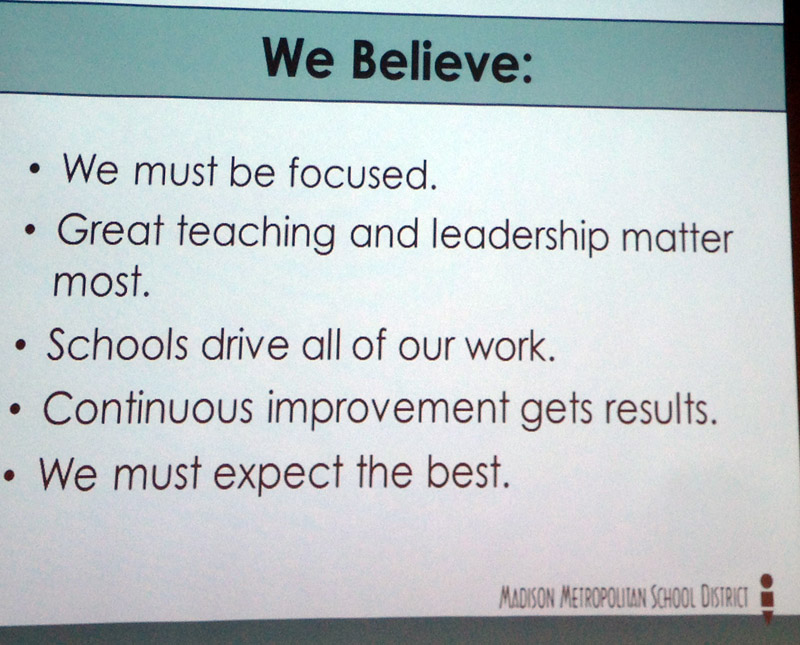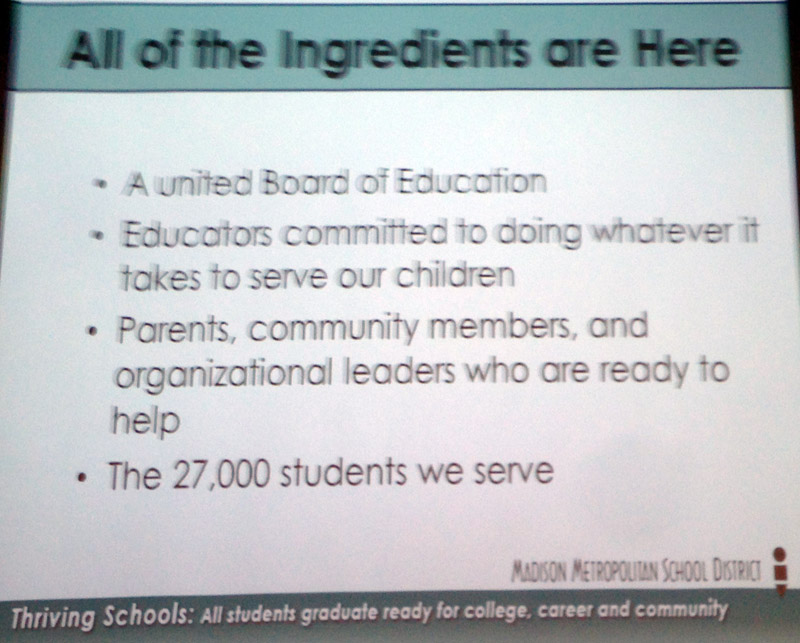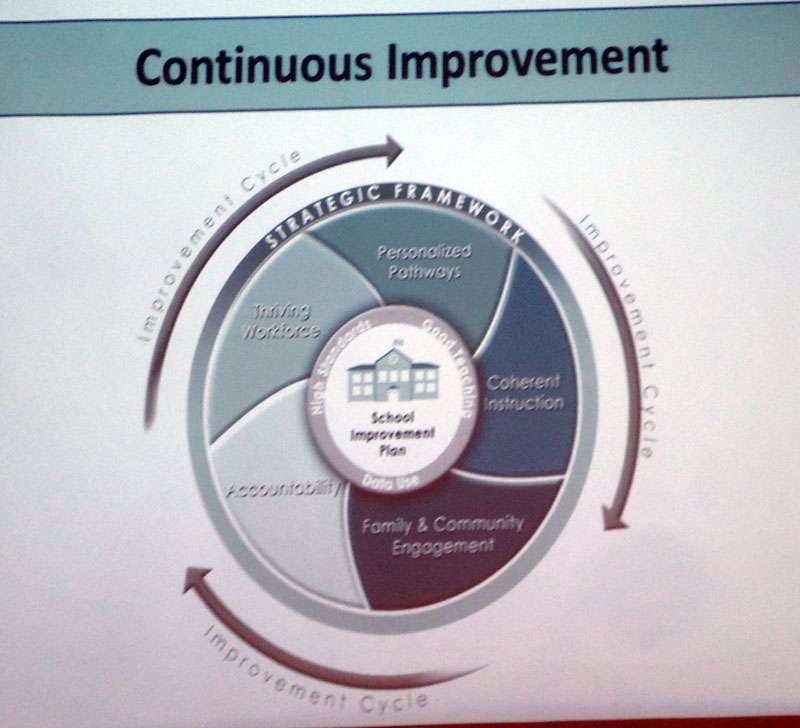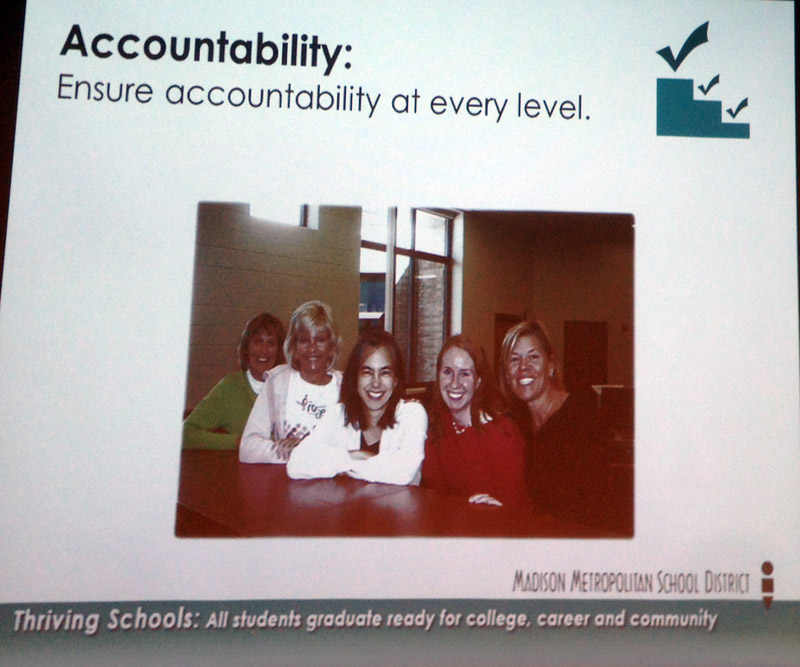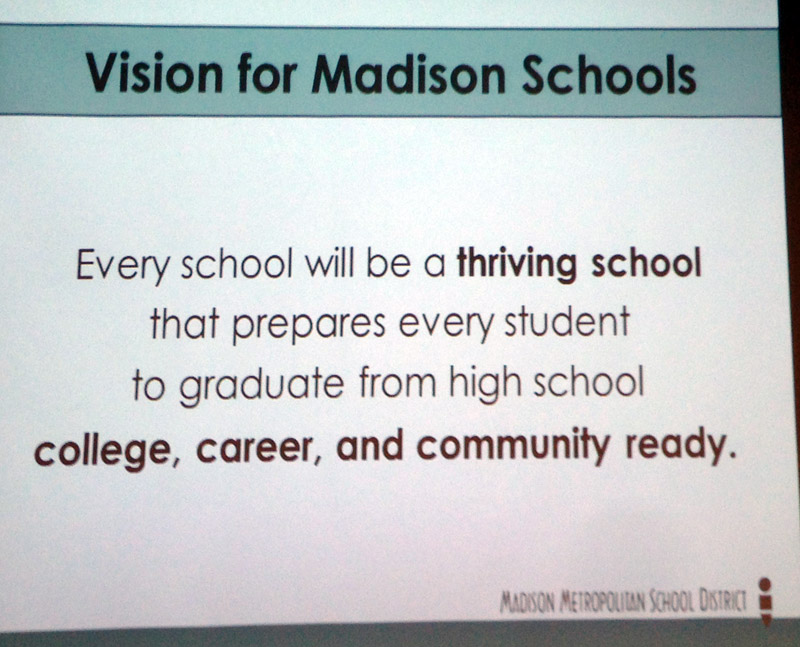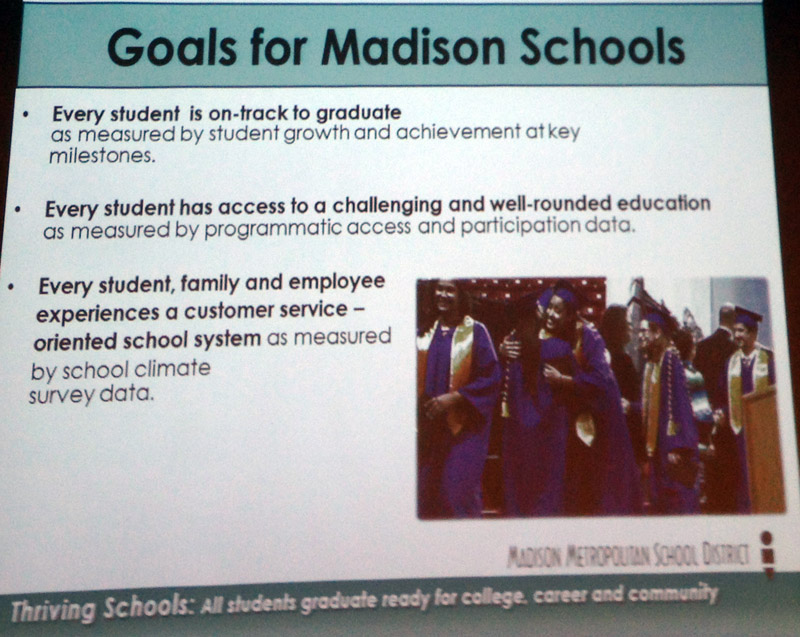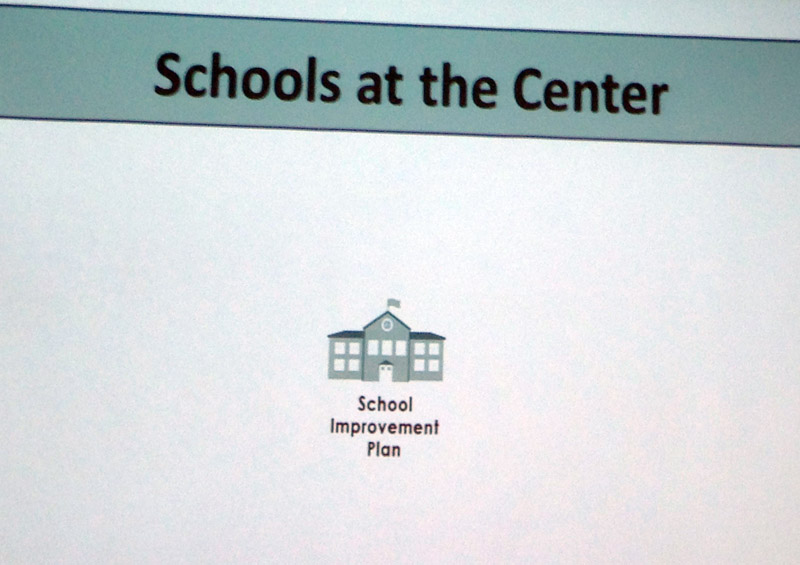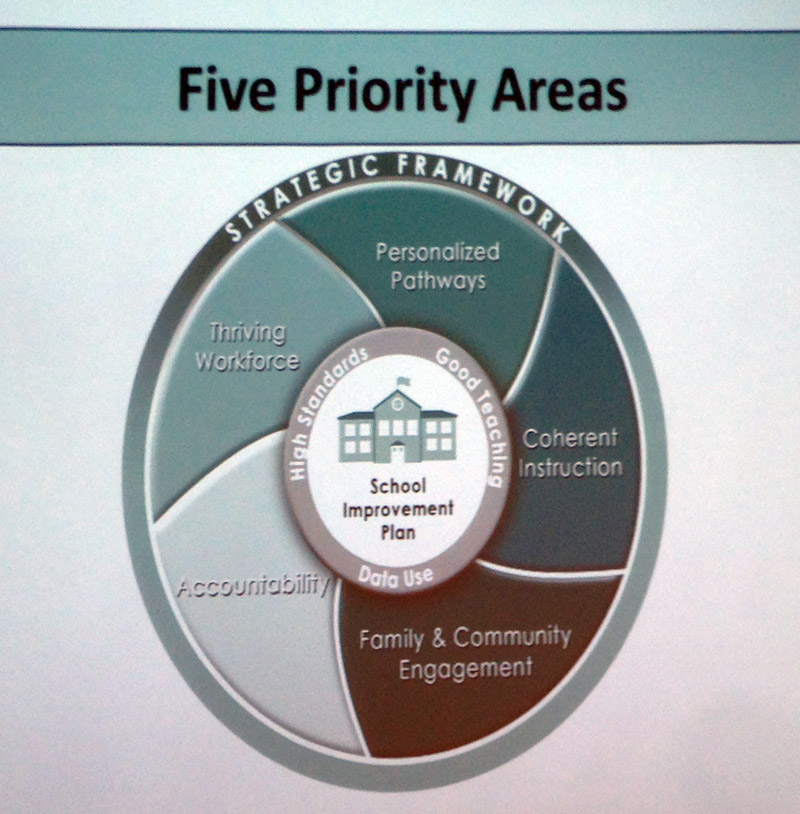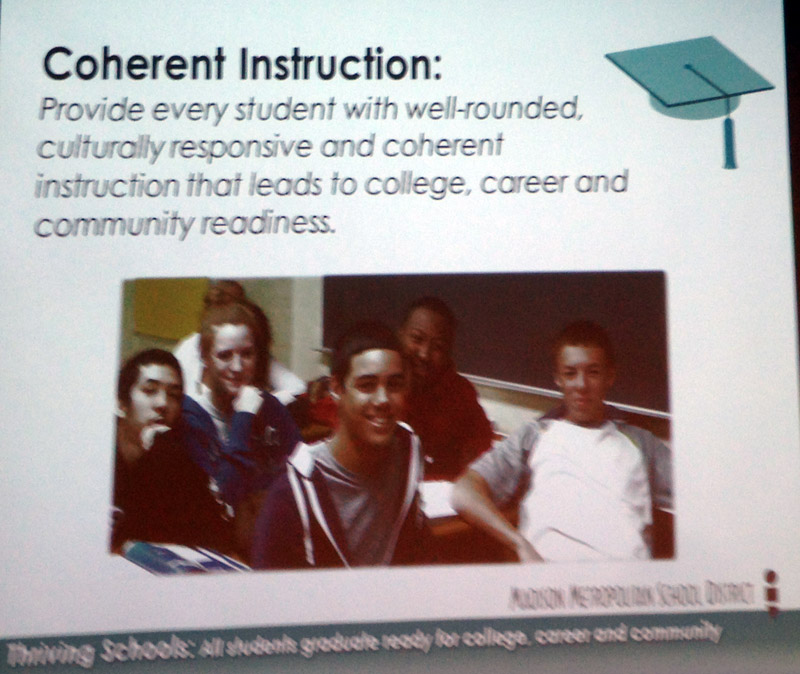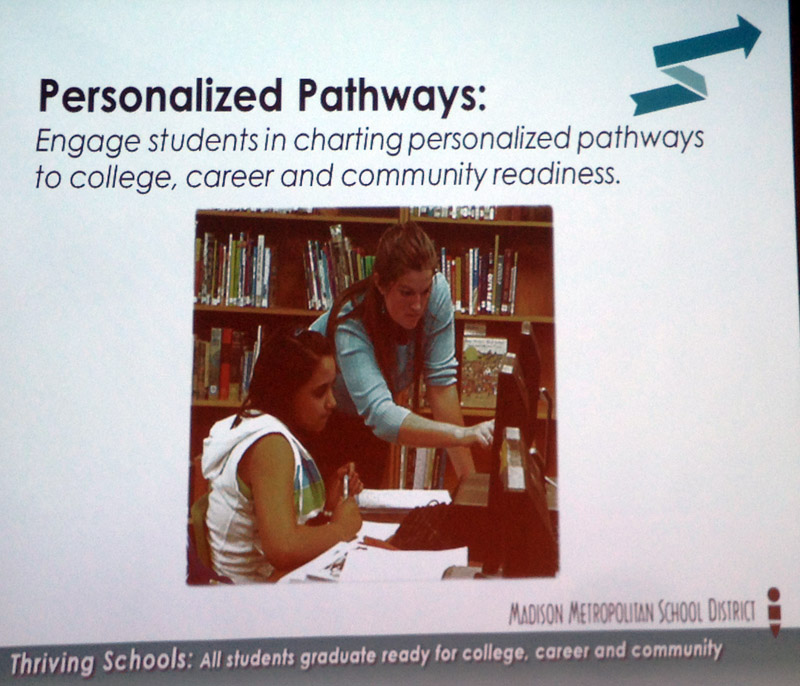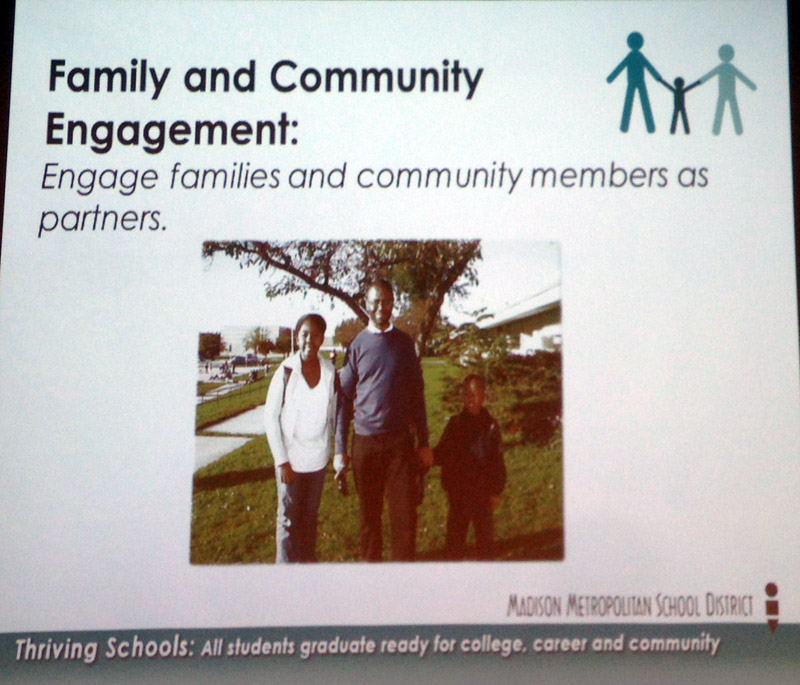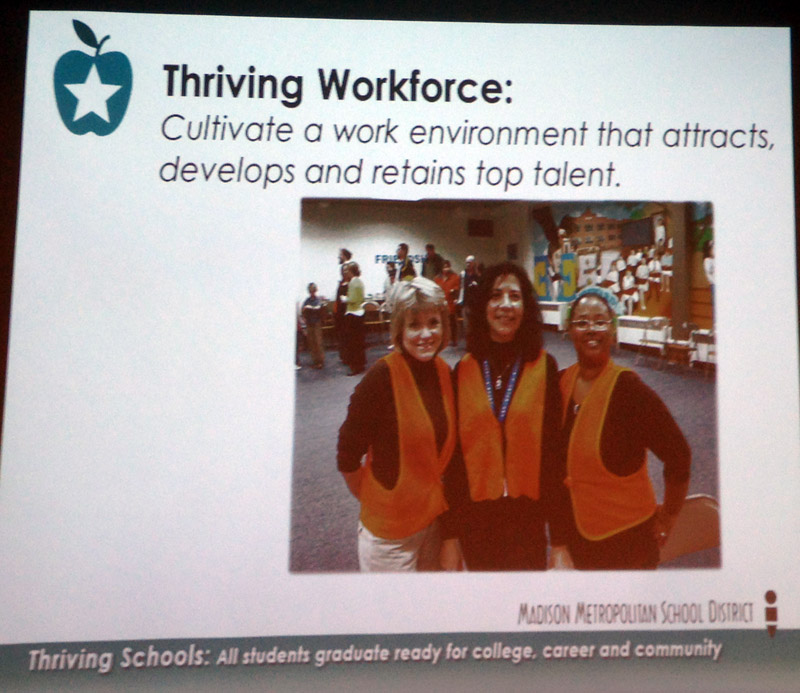 A few of the Superintendent's words merit a bit of analysis:
1. "What will be different this time?" That rhetoric is appropriate for our Madison schools. I compiled a number of notes and links on this subject, here.
2. "Ready to partner with local businesses and other organizations". Great idea. The substance of this would certainly be a change after the Madison Preparatory Academy IB Charter school debacle (Urban League) and, some years ago, the rejection of Promega's kind offer to partner on Madison Middle Schools 2000.
3. Mentions "all Madison schools are diverse". I don't buy that. The range of student climate across all schools is significant, from Van Hise and Franklin to LakeView, Mendota and Sandburg. Madison school data by income summary. I have long been astonished that this wide variation continues. Note that Madison's reading problems are not limited to African-American students.
4. Mentioned Long Beach and Boston as urban districts that have narrowed the achievement gap. Both districts offer a variety of school governance models, which is quite different than Madison's long-time "one size fits all approach".
5. Dave Baskerville (www.wisconsin2.org) asked a question about benchmarking Madison students vs. the world, rather than Green Bay and Milwaukee. Superintendent Cheatham responded positively to that inquiry. Interestingly, the Long Beach schools prominently display their status as a "top 5 school system worldwide".
6. "Some teachers and principals have not been reviewed for as long as 7 years". This points to the crux of hard decision making. Presumably, we are at this point because such reviews make no difference given rolling administrator contracts and a strong union umbrella (or floor depending on your point of view). Thus, my last point (below) about getting on with the hard decisions which focus the organization on job number one: reading.
Pat Schneider and Matthew DeFour summarize the Superintendent's press release and appearance.
Finally, I found it a bit curious that the Superintendent is supporting spending (and related property tax growth) for current programs in light of the larger strategy discussed today along with the recent "expert review". The review stated that the "Madison School District has resources to close achievement gap"
This would be a great time to eliminate some programs such as the partially implemented Infinite Campus system.
Superintendent Cheatham's plan indicates that choices will be made so that staff and resources can focus on where they are most needed. I wholeheartedly agree. There is no point in waiting and wasting more time and money. Delay will only increase the cost of her "strategy tax".