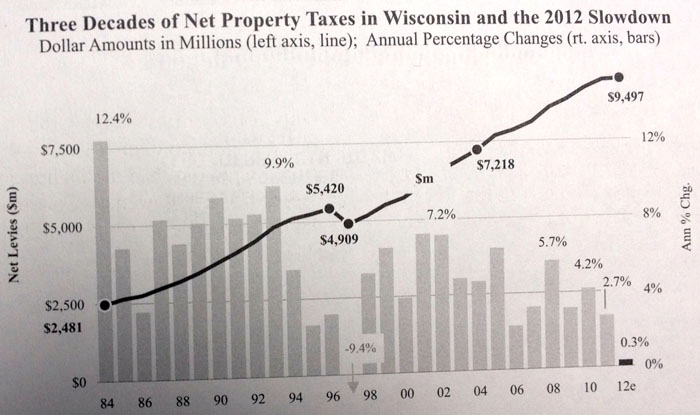 Matthew DeFour:
Madison's aid amount is about the same as it was in 2010-11. The district received a $15 million boost in aid last year mostly because 4-year-old kindergarten enrollment added about 2,000 students.
The Madison School Board taxed the maximum amount allowed last year, resulting in a 1.75 percent property tax increase. That amount was low compared to previous years because of the state aid increase. The additional funds allowed the district to spend more on building maintenance and a plan to raise low-income and minority student achievement.
Property tax increase coming
Cheatham said she hopes to propose a lower property tax increase than 6.8 percent when she introduces her budget on July 15. A group of local and national experts recently advised the district that it should reallocate more funding from the administration into classrooms. Cheatham expects to do a deeper review of district finances for the 2014-15 budget.
"I would not be reluctant to ask the taxpayers of Madison to support us with additional funding moving forward if I knew that we were spending every dollar in the best possible way to support the students in our school district," Cheatham said. "I'll know that next budget cycle."
To reduce the budget, Cheatham said she doesn't expect any major changes that will affect classroom learning.
Instead she could cut a 1.5 percent proposed increase in the employee salary schedule, reduce maintenance spending or make some previously recommended reductions in administrative positions.
Much more in the 2013-2014 budget, here.
Related: Up, Down & Transparency: Madison Schools Received $11.8M more in State Tax Dollars last year, Local District Forecasts a Possible Reduction of $8.7M this Year.
Madison spends significantly more per student than most districts. Property taxes were increased 9% just a few years ago.
Finally the ongoing tax increases may play a role in Madison School Board member Mary Burke's rumored race for Governor.
Wages fall at record pace.
Madison's long term disastrous reading scores.