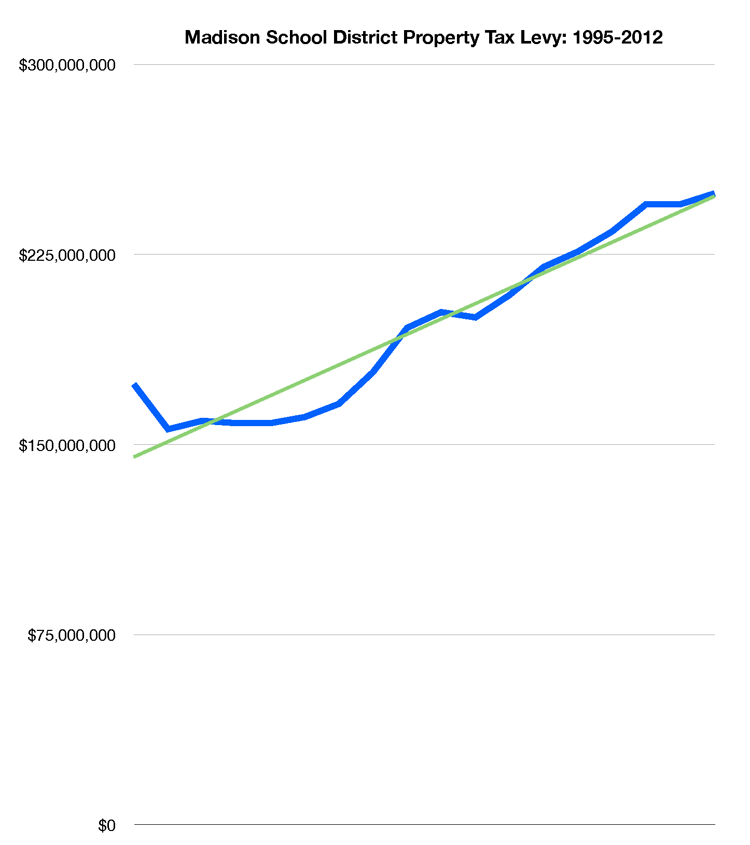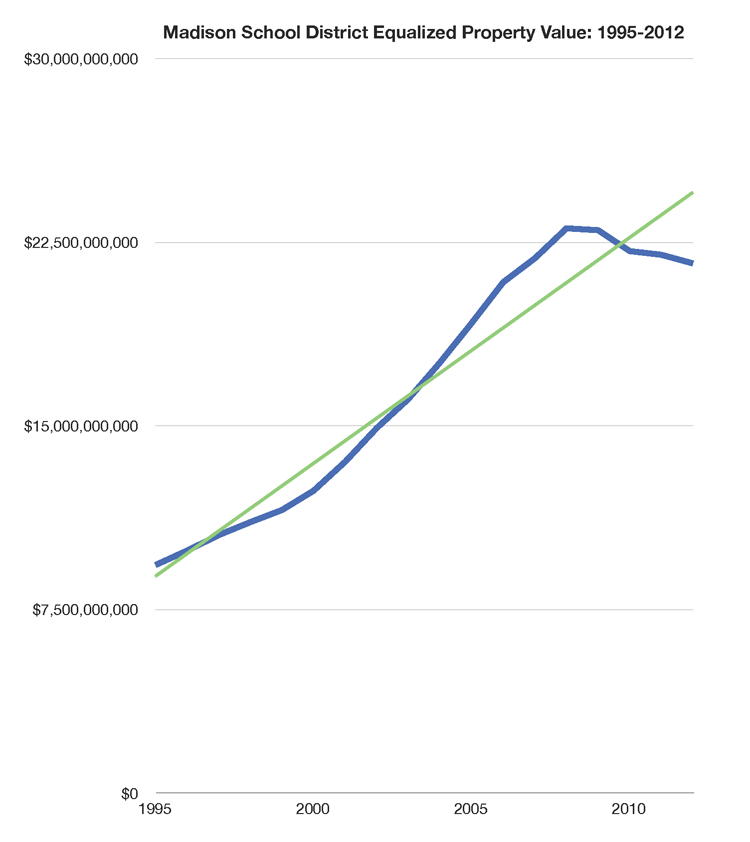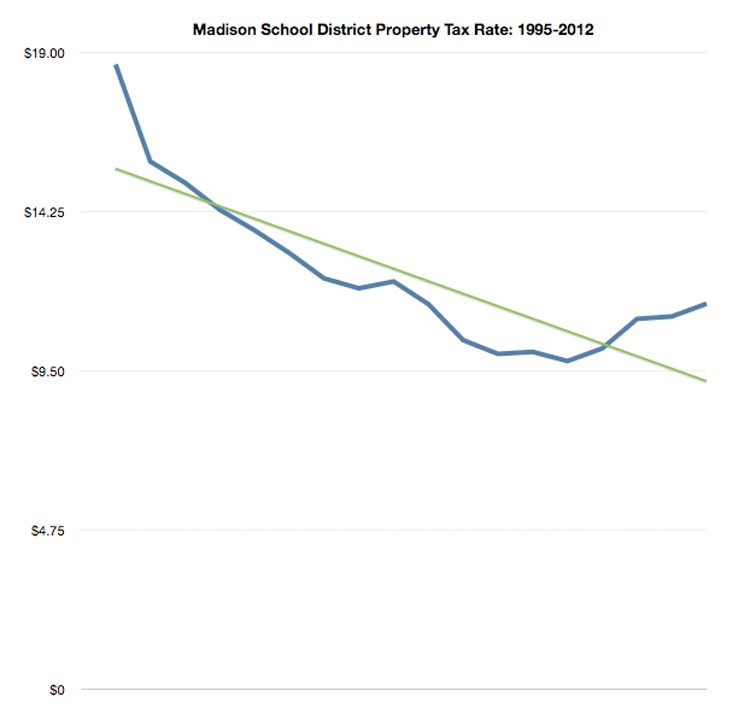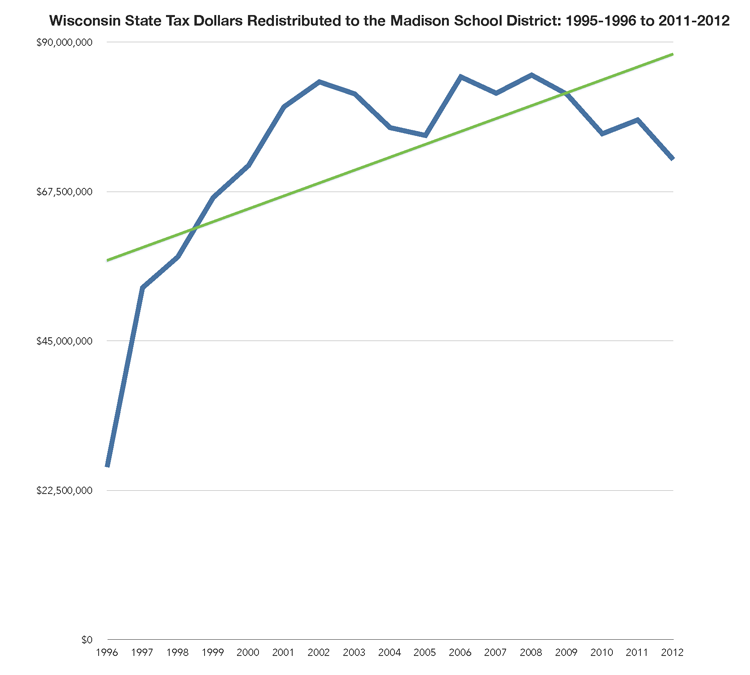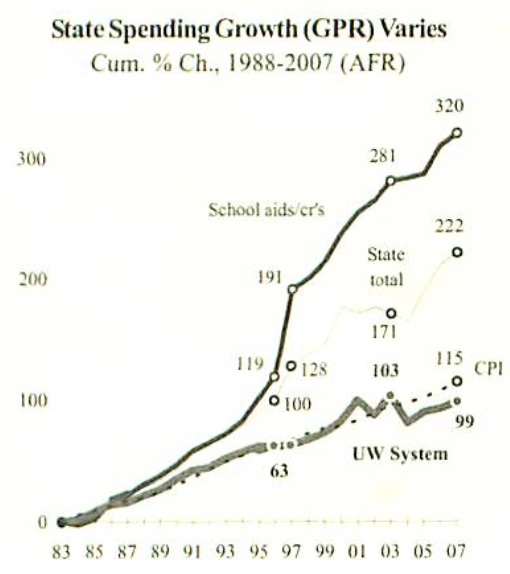 Sources:
The charts reveal several larger stories:
First, the State of Wisconsin "committed" to 2/3 K-12 funding in the mid-1990's. The increase in redistributed state tax dollars is apparent. [Wisconsin Legislative Fiscal Bureau: State Aid to School Districts (PDF)]
Second, Madison's substantial real estate growth during the 2000's supported growing K-12 spending while reducing the property tax rate (the overall pie grew so the "rate" could fall somewhat). The real estate music stopped in the late 2000's ("Great Recession) and the tax rate began to grow again as the District consistently raised property taxes. *Note that there has been justifiable controversy over Madison's large number of tax exempt properties. Fewer exemptions expands the tax base and (potentially) reduces individual homeowner's taxes.
Third, Madison has long spent more per student than most public schools.
Fourth, the District's June 10, 2013 budget document fails to address two core aspects of its mission: total spending and program effectiveness. The most recent 2012-2013 District budget number (via a Matthew DeFour email) is $392,789,303. This is up 4.4% from the July, 2012 District budget number: $376,200,000. The District's budget has always – in my nine years of observation – increased throughout the school year. The late, lamented "citizen's budget" was a short lived effort to create a standard method to track changes over time.
Fifth, the June 10, 2013 document does not include the District's "Fund balance" or equity. The balance declined during the 2000's, somewhat controversially, but it has since grown. A current number would be useful, particularly in light of Madison's high property taxes.
Sixth, I took a quick look at property taxes in Middleton and Madison on a $230,000 home. A Middleton home paid $4,648.16 in 2012 while a Madison home paid 16% more, or $5,408.38. Local efforts to significantly increase property taxes may grow the gap with Middleton.
Finally, years of spending and tax growth have not addressed the District's long term-disastrous reading results. Are we doing the same thing over and over?