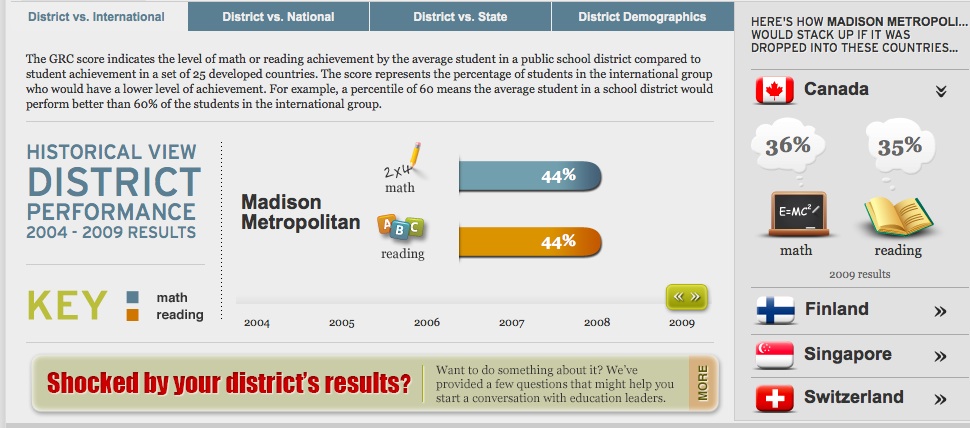 Tap on the image to view a larger version. Source: The Global Report Card.


Madison School Board Member Ed Hughes:
Recently I've been spending a lot of time thinking about the Madison school district's achievement gap problems and other challenges we face. I've also been responding to the outlandish notion that Madison is a failing school district whose students deserve private school vouchers as their only lifeline to academic success.
At times like this, I find it helpful to remember that Madison's schools are educating many, many students who are succeeding. Some of them are succeeding spectacularly. With apologies to those I'm overlooking, here's a brief run-down on some of our stars –
Madison Memorial's recently-formed science bowl team won the Wisconsin state championship in January. The team of seniors Srikar Adibhatla, Sohil Shah, Thejas Wesley and William Xiang and sophomore Brian Luo will represent Wisconsin in the National Science Bowl Championship in Washington, D.C. in April.
Related:
Credit for non-Madison School District courses and the Talented and Gifted complaint.
Census.gov on Madison's demographics, compared to College Station, TX. 52.9% of Madison residents have a bachelor's degree, compared to the State's 26%. 57.5% of College Station, Texas's residents have a college degree.
Madison High School UW-Madison and University of Wisconsin System enrollment trends 1983-2011:
East LaFollette, Memorial, West, Edgewood.
Where have all the students, gone? A look at suburban Madison enrollment changes.
National Merit Semifinalists & Wisconsin's cut scores.
Madison's nearly $15k per student annual spending, community support and higher education infrastructure provide the raw materials for world class public schools. Benchmarking ourselves against world leaders would seem to be a great place to begin.