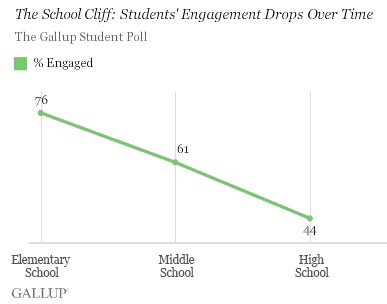 Albert Shanker, New York Times, 1990:
"As we've known for a long time, factory workers who never saw the completed product and worked on only a small part of it soon became bored and demoralized, But when they were allowed to see the whole process–or better yet become involved in it–productivity and morale improved. Students are no different. When we chop up the work they do into little bits–history facts and vocabulary and grammar rules to be learned–it's no wonder that they are bored and disengaged. The achievement of The Concord Review's authors offers a different model of learning. Maybe it's time for us to take it seriously."
Graphic via the Gallup Blog.