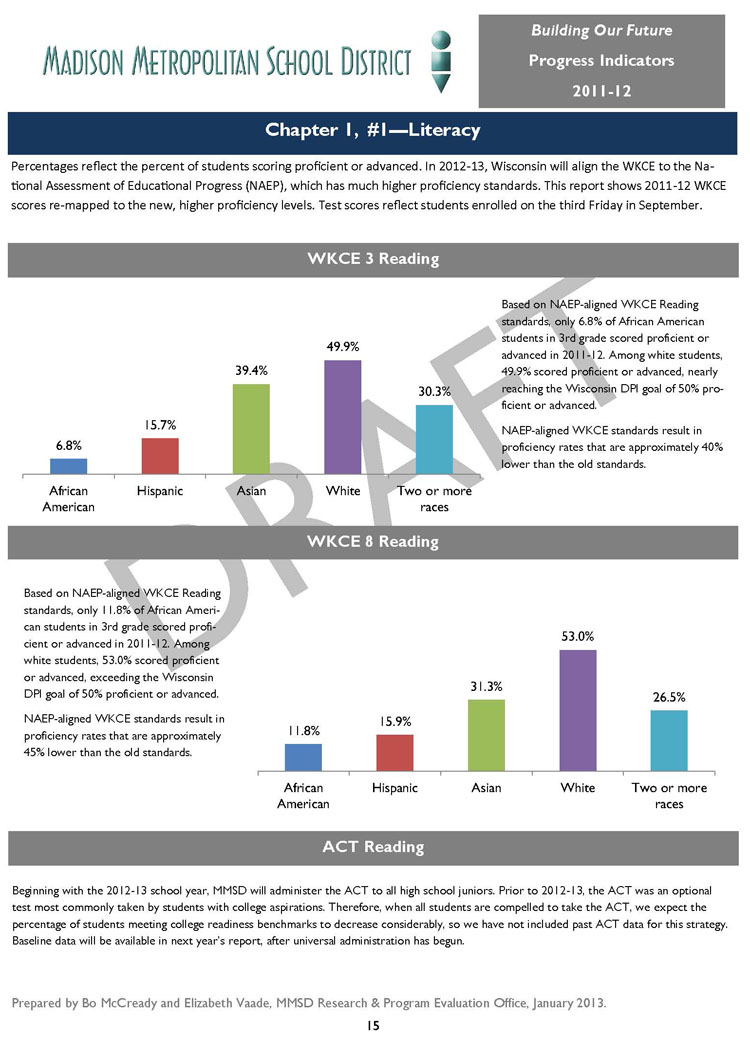 Jane Belmore (PDF):

Superintendent Jane Belmore (4MB PDF):
The Building Our Future plan provides direction for improving student achievement and district accountability. The plan identifies specific strategies and corresponding measures to meet the four overarching priorities of the district. The measures provide data to monitor progress towards improvement.
The key reason to include district and program measures in this report is to make sure that the Building Our Future plan is contributing to closing achievement gaps. Each program and initiative in Building Our Future is based on extensive research and planning. However, it is important to connect these initiatives to tangible outcomes. Tracking these measures helps increase accountability, allocate resources effectively and efficiently, and continuously improve our efforts to educate all students.
District Priorities: MMSD Management Team identified overarching district priorities in the areas of Attendance, Behavior, Growth and Achievement. The rationale for these priorities is based on the following theory of action:
When our teachers apply strong, explicit teaching skills within an aligned multi-tiered system of instruction and support, and students attend school regularly with behavior that positively impacts their learning and the learning environment, then students will show academic achievement, and social and emotional growth and gaps in learning and achievement will close.
This report outlines 2011-12 progress indicators for each of these priorities and includes historical data when appropriate.
Strategies: Each initiative in Building Our Future is outlined in the report, including a narrative description, the alignment to district priorities, the primary contact(s), action steps, and objectives with annual progress measures. When available, data from 2011- 12 on key progress indicators is included, along with relevant history for comparison. The approved 2012-13 budget for each strategy will also be integrated into the report to help contextualize how MMSD will allocate resources for this initiative moving forward.
Goal setting: This update includes a discussion on the methods used to set goals associated with each strategy. These are described in Attachment 3 and use literacy goals for Chapter 1, Strategy #1 as an example.