Paul Vallas at LaFollette Video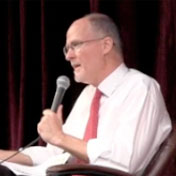 School reform superintendent Paul Vallas spoke at LaFollette High School at the behest of Boys and Girls Club of Dane County CEO Michael Johnson. The two and a half hour presentation with question and answer periods as attended by about 100 people in the LaFollette Auditorium.
Paul Vallas has been the Superintendent of schools in Chicago (CPS), Philadelphia, New Orleans, and currently Bridgeport Connecticut. He is currently hired to improve the schools in both Chile and Haiti, and has been praised in two State of the Union addresses. His work as a superintendent has engendered both strong support and strong disagreement.
The two and a half hour meeting has been divided into five clips and I have tried to summarize comments made by Paul Vallas, the panel and the audience members who spoke.