Wisconsin DPI Superintendent's enewsletter:
The education bill with provisions related to Educator Effectiveness and Early Literacy is now waiting the governor's signature.
State Superintendent Tony Evers applauded aspects of the bill this week, while acknowledging "difficult" moments during the Legislature's just-ended session.
One provision of the education bill "incorporates the on-going work of my Educator Effectiveness Design Team," Evers said.
That group is working to pilot "an educator evaluation system that is centered on student learning, and is fair, valid, and reliable. This legislation will allow our performance-based evaluation system to move forward, supporting teachers and principals in their job of educating students and helping our educators improve throughout their careers."
Evers said other provisions "are based on a path forward that was agreed to by the members of the Governor's Read to Lead Task Force." He said those provisions "will help Wisconsin better prepare educators to teach reading. It will also help us to better identify kindergarteners who are struggling with the components of early literacy, and help us improve reading results for all children."
"I look forward to the Governor signing this important bill into law," Evers concluded.

Much more on the Read to Lead initiative, here.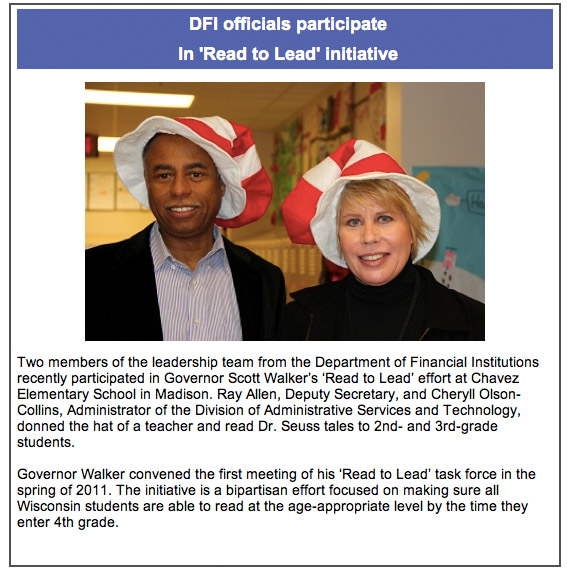 This photo recently appeared on the Wisconsin Department of Financial Institutions' website.
The 2012 Wisconsin Read To Lead Task Force report can be viewed, here. The report mentions a number of recommendations regarding teacher preparation, including:
The current Wisconsin teacher licensure exam has few questions on reading instruction, and many of those questions are lacking in rigor. Reading should be emphasized specifically; however, the state should also take this opportunity to strengthen licensure requirements overall. Specifically, the Task Force recommends the well-­‐regarded Massachusetts Test for Education Licensure (MTEL) "Foundations of Reading" to be the required state exam by 2013 to raise the bar. The exam should be incorporated within the current Wisconsin exam to reduce costs in the short term. In the long term, the state should explore adopting MTEL exams across all subject areas.
As part of the process of adopting a new exam, the Wisconsin Department of Public Instruction (DPI) will inform institutions of higher education on what will be covered on the MTEL, thereby igniting a much-­‐needed conversation to ensure the theoretical and technical knowledge needed to teach students to read is effectively and sufficiently taught to prospective reading teachers.