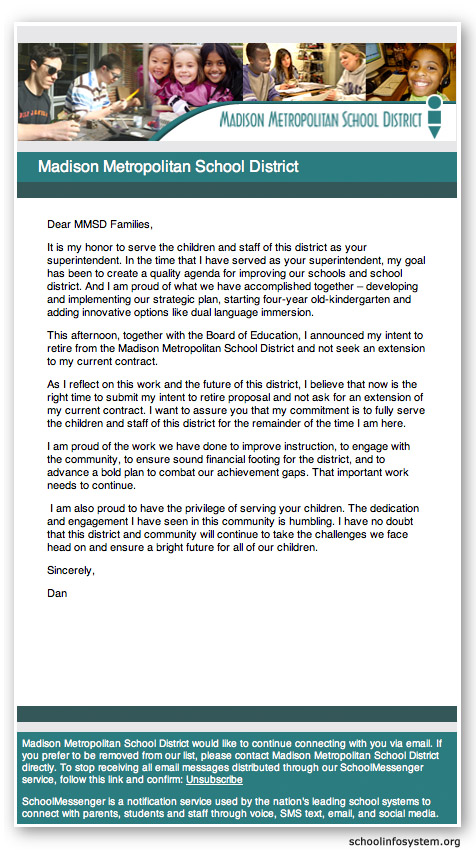 Madison Metropolitan School District Superintendent Dan Nerad announced on Monday that he will retire and not seek a contract extension.
Nerad made the announcement at a press conference on Monday afternoon. Nerad's contract runs through June 2013 and he said he will remain through then.
He said calling this announcement a "resignation" would be accurate.
Nerad said that decision came to a culmination in the last 10 days and that he has been in the process of deciding on retirement for several months.
He cited his reason for retiring for a variety of factors.He said that controversy over achievement gap was "a factor."
"I wish I could've done more to develop a consensus on how to move forward on issues, including (the) achievement gap," he said.
Nerad said that a new leader could provide a spark on the achievement gap that he could no longer provide.
Madison schools superintendent Dan Nerad will leave the job when his contract expires in the summer of 2013.
Nerad, 60, made the announcement Monday hours before the Madison School Board was scheduled to vote on whether to extend the contract.
School board president James Howard didn't offer a timeline for hiring a replacement.
Nerad said he had been thinking about leaving the Madison district for several months, and made a decision within the last 10 days.
A community leader who has had a ringside seat to the struggles to forge a plan to end the academic achievement gap in the Madison schools thinks Superintendent Dan Nerad's announcement Monday of his planned departure next year just might be the break needed to make real progress.
This view isn't universally shared, but Steve Goldberg, executive director of the CUNA Mutual Foundation who has worked closely with the Madison Metropolitan School District, its teachers union and community leaders, says Nerad's announcement could put him in a position to have a greater influence over acceptance of a plan he recently put forward to close the race-based achievement gap.
With any inkling that Nerad is working to preserve his job removed from the equation, the likely efficacy of his proposals might become a tighter focus of discussion, Goldberg said.
"This might change the way he is perceived," Goldberg told me. "Since he no longer has 'an axe to grind,' he may be viewed as more objective."
Nerad, 60, said he had been thinking about leaving the job for several months, and made a decision within the last 10 days.
He said there were multiple factors that contributed to his decision. When pressed to identify examples, he said division on the board over his performance and division in the community about how to address the district's persistent achievement gap between minority and white students were factors, though not primary ones.
"I wish I could have done more to try to develop a broader base of consensus around how we best serve children," Nerad said.
Nerad, a former social worker, came to Madison after six years as superintendent in Green Bay, where he had been credited for his work on addressing the community's achievement gap.
Soon after taking the reins in Madison, Nerad oversaw the passage of a $13 million operating referendum. He launched 4-year-old kindergarten, developed a five-year strategic plan, expanded the dual-language immersion and summer school programs, reorganized central office staff, introduced curricular alignment among all schools and restored the district's AAA bond rating.
Don Severson, president of a conservative watchdog group, said he wasn't surprised by the announcement given the lack of overwhelming support for Nerad's leadership.
"You can't behave as a social worker and run a massive complex organization," Severson said. "He had to be much more proactive and take some risks, make some decisions, go in some direction where he knows he won't have unanimity."
I'm glad Matt DeFour and the Wisconsin State Journal obtained the most recent Superintendent Review via open records. We, as a community have come a long way in just a few short years. The lack of Board oversight was a big issue in mid-2000's competitive school board races. Former Superintendent Art Rainwater had not been reviewed for some time. These links are well worth reading and considering in light of the recent Superintendent review articles, including Chris Rickert's latest. Rickert mentions a number of local statistics. However, he fails to mention: