The Madison United for Academic Excellence (MUAE) meeting of 21 February 2008 offered a question and answer session with Welda Simousek, TAG coordinator, Lisa Wachtel, Director of Teaching and Learning, and Brian Sniff, Math Coordinator, each of MMSD.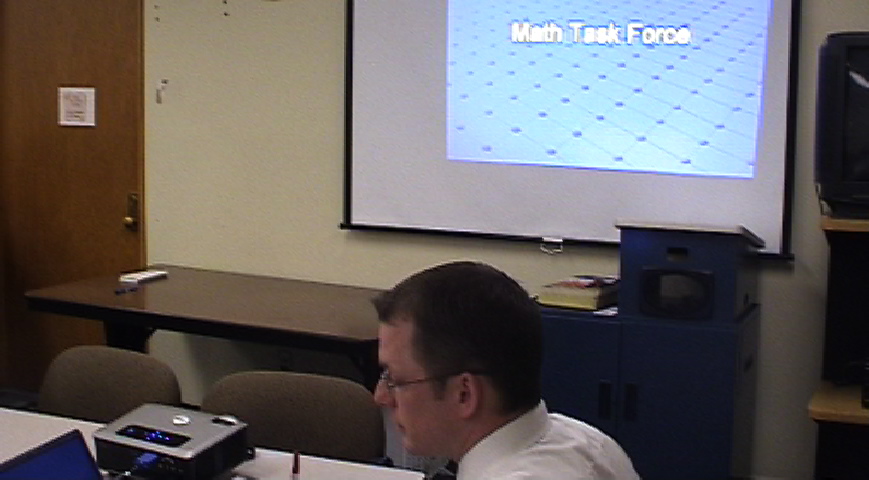 The video of the meeting is about 1 hours and 30 minutes long, but does not include the last 15 minutes of a spirited discussion. Click on the image at left to watch the video. The video will play immediately, while the file continues to download.
The topics covered during remarks and the question and answer sessions are
Middle School Math Assessment
Math Task Force
Teacher Certifications in Math
Connected Math Curriculum in Middle Schools
High School Math Curriculum and variations among schools
The slide materials for Lisa's and Brian's presentation are included in Powerpoint format and PDF format. (Thanks to Brian for sending).
The handouts from this presentation (thanks to Welda): In-STEP Teacher Checklist, 2007-8 Middle School Math Assessment – Draft, Math Assessment Report.
NB: The last slides discussed during this meeting are slides numbered 15 and 16 (Math Physics, Math Chemistry, respectively). These latter slides prompted the spirited discussion mentioned above, but is not part of the video. Slides 17-19 were neither discussed nor displayed.