The October 30, 2006 Board of Education met to discuss a series of resolutions, and approve the final 2006-07 MMSD Budget, and approve the AFSCME Local 60 contract.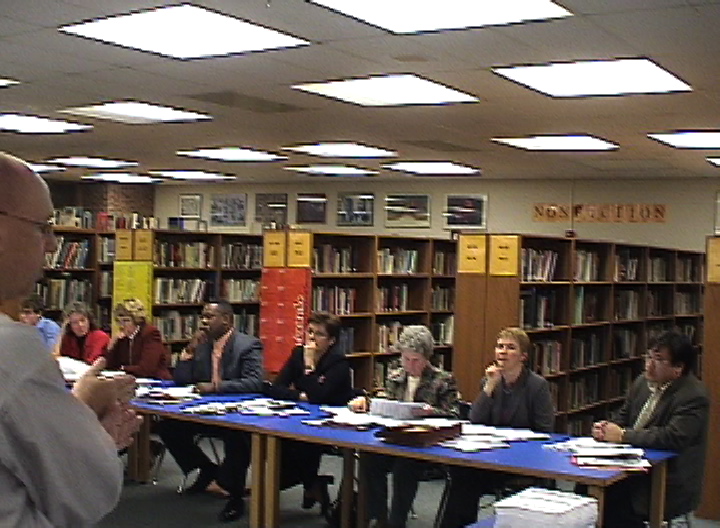 The video of the meeting is 210MB, and 2 hours and 30 minutes long. Click on the image at left to watch the video. The video contains chapter headings which allow quick navigation to sections of the meeting. The video will play immediately, while the file continues to download.
Public Appearances
There was a public appearance by Barbara Lewis who expressed concern over the apparent change in policy of MMSD in granting high school credit for courses taken at the University of Wisconsin Madison. Both Superintendent Art Rainwater and Director of Alternative Programs Steve Hartley discussed the issues with the Board and clarified that the policy statement which Ms. Lewis had received, and which apparently was being misinterpreted by some high school staff referred only to Independent Study. The Board, noting confusion of parents, school staff and themselves, requested that these issues be placed on the Board agenda as soon as possible.
Agenda Item #4
Resolution supporting expenditures for school security be placed outside the revenue caps.
Agenda Item #5
Resolution supporting language by the Superintendent and other superintendents that the State adopt the Adequacy Model for school funding.
Agenda Item #6 – Discussion and Approval of 2006-2007 Budget
This portion of the meeting begins at approximately 20 minutes into the meeting and continues until the Board votes to approve the tax levy amount at 2 hours into the meeting. Final approval of the full budget is rescheduled for a later meeting. The discussions included issues of fund equity, the fund reserve, the unexpected decrease of State support, liquidation of earnings on Chavez building funds, changes in the budget necessary to offset decrease in State support, and the minimum decisions the Board needed to make to meet budget deadline.
Agenda Item #7
Approval of the AFSCME Local 60 contract, in which the District and Union agree to a health care package containing only HMOs, saving the District significant healthcare costs, in exchange for a generous wage increase.