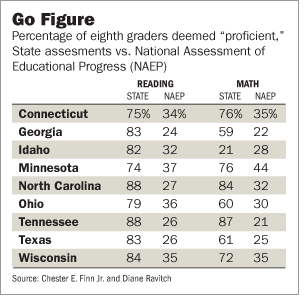 Chester Finn, Jr. and Diane Ravitch:
U.S. students lag behind their peers in other modern nations — and the gap widens dramatically as their grade levels rise. Our high school pupils (and graduates) are miles from where they need to be to assure them and our country a secure future in the highly competitive global economy. Hence, any serious effort at education reform hinges on our setting world-class standards, then candidly tracking performance in relation to those standards. Even when gains are slender and results disappointing, we need the plain truth. Which is why recent attempts by federal and state governments to sugarcoat the performance of students is so alarming.
NAEP vs. State test scores was discussed during the recent math forum.