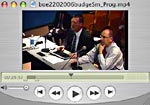 The Madison School District's Finance and Operations Committee reviewed a 5 year financial forecast, starting with this year's $320M+ budget, prepared by the Administration Monday evening. Video and mp3 audio.
Local media comments:
Roger Price, business services director for the district, cautioned that projections beyond the next two years are simply a forecast, and a budget tool. "I'm very confident about the figures for 2007 and fairly confident for the following year. After that, it's more speculative," he said.
Costs to run the school district rise about 4 percent per year, while state-mandated revenue caps limit what a district can spend from the combination of property taxes and state aid to 2.6 percent. Every year, the district must find a way to close the gap to balance the budget.
Under the revenue cap formula, districts that are growing in size benefit while districts that are losing enrollment must subtract the cost of educating their students from their budgets. Total student enrollment has been declining throughout Wisconsin. Madison has seen a loss of students over the last decade, while suburban Dane County has seen rapid growth.
WKOW-TV has more. Background links and articles on the budget are available here.