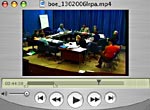 Monday evening's Board meeting presented a rather animated clash of wills between, it appears, those (A majority of the Board, based on the meeting discussions) who support Fitchburg's Swan Creek residents and their desire to remain at a larger Leopold School vs. those who favor using existing District schools that have extra space for the 63 Fitchburg children (no other students would move under the plan discussed Monday evening), such as Lincoln and/or the Lincoln/Midvale pair.
Lawrie Kobza and Ruth Robarts suggested that the District's overcrowding priorities are:

the Memorial area first (District forecasts that area at 111% of capacity by 2011 [3:08 minutes into the video]),
LaFollette second (106% in 2011 [3:10], which was not addressed by the Task Forces)
and 3rd, the West attendance area (West currently under capacity, according to the District, will be at 98% capacity in 2011).

They further suggested that any building decision should be part of a district wide 5 year plan. Johnny Winston argued that the Board should "give the people what they want [28:42] and that the District should look for alternative financing options, such as naming rights [22:00]. The Board made a commitment to the community when it acquired land from Oregon. You will be attending Leopold School." Mary Gulbrandsen discussed bus routes and forecasting.

This video clip includes the public comments.
The MMSD has had opportunities over the years to construct a facility in Fitchburg. The District turned down an offer of free land from Promega during the mid-1990's. Eagle School occupies that land today.
Local media roundup:
Facilities are always a tough issue. A reader emailed that Thoreau, for example, does not have a lunch room. Students march in and out of the gym.
Well worth watching, particularly when these questions are sent to the voters via a referendum.
As a parent, taxpayer and citizen, I very much appreciate the questions Lawrie Kobza raised Monday evening (I strongly supported her candidacy last spring). The District's fiscal challenges are not small: flat enrollment, revenue caps which limit growth in the district's $321M budget to 2.5% annually – as long as enrollment is flat, high property taxes and two recent failed referenda. In my view, the District must exhaust all options, thoroughly, before asking for more money. I was glad to see Johnny suggest that other means be pursued to fund these facilities. Finally, Fitchburg's public school climate is a challenge to read. Our neighbor to the south voted down the Leopold expansion referenda last spring. Linking Leopold expansion to a new far west school – built on land which was purchased last fall before the west task force began its work – (part of the Memorial attendance area) is an interesting approach to the question (and, perhaps the April School Board elections).
Another update: another reader emails that four members of the west side task force represented Leopold's interests vis a vis currently or recently enrolled children.