Madison Schools' Budget Updates: Board Questions, Spending Through 3.31.2013, Staffing Plan Changes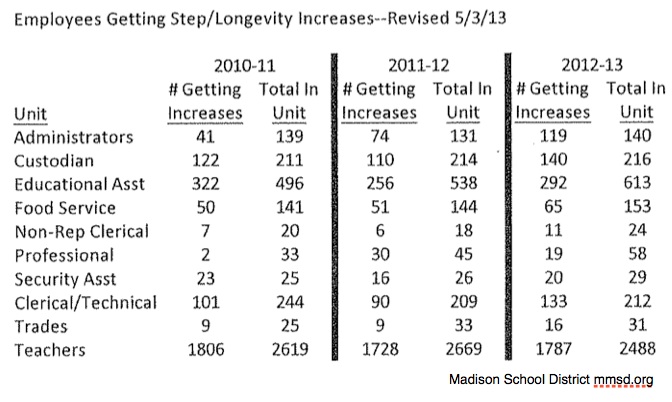 Steve Hartley, Madison Schools Chief of Staff:
Attached is a spreadsheet listing questions received from BOE members to date and some of our responses. Over the course of the next two months, we will continue to collect your questions and respond at both Operational Support and Regular Board meetings.
Madison Superintendent Jennifer Cheatham (PDF):
The draft budget included several new positions for the Board's consideration. After refining and prioritizing with staff and vetting with principals, we are only asking for approval of two essential positions at this point. The position changes represent a savings of just over $2 million from the draft budget.

As we prepare for next year, we must keep our efforts and resources focused on providing supports to schools to improve instruction. We must also be responsible stewards of taxpayer dollars by reducing the impact of our budget.

To get to these recommendations, we conducted a rigorous examination of positions funded in the draft budget to decide what we believe is absolutely necessary right now. Much of the work we need to do next year is about improving the systems and structures for how we serve students, not adding additional resources. It will be critical going forward that we narrow our focus to the strategies that we know work, implement them well and sustain the focus over time.

So far, we have only considered the position decisions that we need the Board to approve. Over the next two months, we will continue to work through the draft budget in order to reduce the tax impact and align with our efforts for next year. Also, we have only reviewed positions based on the draft budget. Next year, we plan to engage in a more thorough, zero-based budgeting process.

Position Additions from Draft Budget that are No Longer Recommended

There are several positions included in the draft budget that we are no longer recommending at this point. In looking at specific positions, we considered our ability to carry out necessary work through more efficient systems and in some cases, the need to pause and re-consider our approach.
With that in mind, we are no longer recommending going forward with the following position additions that were included in the draft budget. Because these were new positions in the draft budget, they do not have staff in them currently and do not require any layoffs.

Mental Health Coordinator: Through redistribution of work in student services, we will be able to provide support to implementation of the Mental Health Task Force's work.

Safety Coordinator: We will continue to coordinate efforts across the organization to ensure safety.
Perhaps a positive sign "we must keep our efforts and resources focused on providing supports to schools to improve instruction". Reading is surely job one, as the District's
long term disastrous reading scores illustrate
.
March, 2013 Madison Schools' financial reports (PDF)
.
Related: Status Quo Costs More: Madison Schools' Administration Floats a 7.38% Property Tax Increase; Dane County Incomes down 4.1%.... District Received $11.8M Redistributed State Tax Dollar Increase last year. Spending up 6.3% over the past 16 months.
Commentary on Madison School Board Member Ed Hughes' Teacher Salary Increase Words.
Posted by Jim Zellmer at May 11, 2013 4:54 AM
Subscribe to this site via RSS/Atom:

Newsletter signup | Send us your ideas