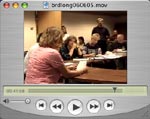 Click to watch this event
The Madison Board of Education's Long Range Planning Committee met on the 6th. Arlene Silveira and Beth Zurbuchen lead along with many others spoke about the failed referenda and next steps. Results and background here. Arlene and Beth were prominent members of Madison Cares, a group that spent heavily in favor of the referenda.

Don Severson, President of Active Citizens for Education also spoke at this event and recommended that the District look at the entire west side, not just Leopold. Severson also argued for a very open discussion with the community.