« Performance and Achievement meeting of 27-Mar-2006 | Main
November 12, 2006
Meeting of August 21, 2006
The August 21, 2006 Performance and Achievement Committee discussed which topics were to be covered within the committee during the coming year, and also heard a report by the ESL Coordinator.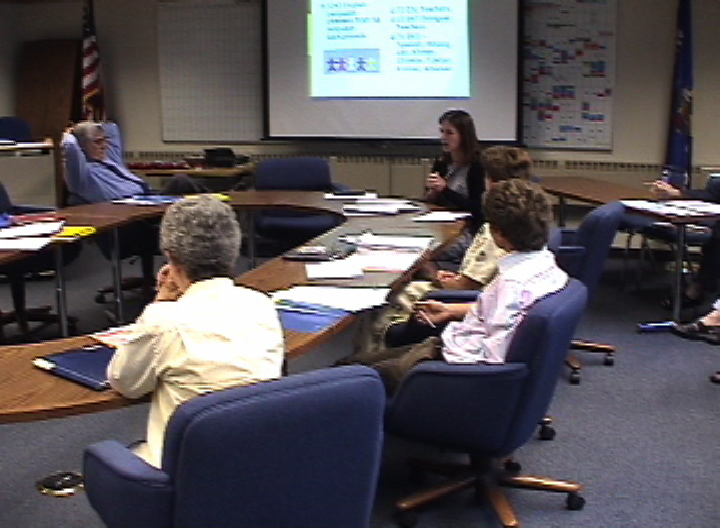 The video of the meeting is 100MB and 1 hour and 10 minutes long. Click on the image at left to watch the video. The video contains chapter headings which allow quick navigation to each speaker's presentations or different topics.
Public Appearances
There was a public appearance by Larry Winkler, requesting that Administration and the Committee analyze the disaggregated scores from the recently received ACT 2006 test, arguing that the mere disclosure that MMSD student average on the ACT exceeded both the national and state averages, tells us nothing about how well individual students performed, nor does it give us enough information to direct the allocation of school resources. A detailed analysis could do that.
Planning for the Year
Ruth Robarts suggested creating the Fine Arts Task Force, as Shwaw Vang had previously suggested, evaluation the new Strings curriculum and analysis of mathematics achievement based on standard scores, and preparation of middle school students for high school math.
Carol Carstenson suggested covering truancy, suspensions, expulsions, dropouts and general engagement issues. Superintendent suggested that this topic is for full Board. The general sense is that committees would do preliminary work, before taking to full Board, but in neither case is either preempted.
Ensure that the curriculum is challenging and diverse, taking into account changes to the middle school curriculum, its impact on elementary and high school curriculum.
Shwaw Vang officially requested creation of Fine Arts Task Force. Wants truancy issues presented to this committee, though the full Board would also be addressing. Another issue is ESL for Asian students, who are now 2nd or 3th generation Americans; setting goal for ensuring they capable of handling mainstream classes.
Discussion of scheduling of PA meetings.
ESL Report
Presentation by Amy Christianson, Coordinator of ESL program, described progress and improvements in student success and changes in measurement which allows for better measures.
Question and answers followed.
Posted by Larry Winkler at November 12, 2006 4:40 AM