Comparing Madison, Boston & Long Beach Public Schools: Student/Teacher Ratio
Madison Superintendent Jennifer Cheatham recently cited the Boston and Long Beach Schools for "narrowing their achievement gap" during a July, 2013 "What Will be Different This Time" presentation to the Madison Rotary Club.
As time permits, I intend to post comparisons between the Districts, starting today.
Student / Teacher Ratio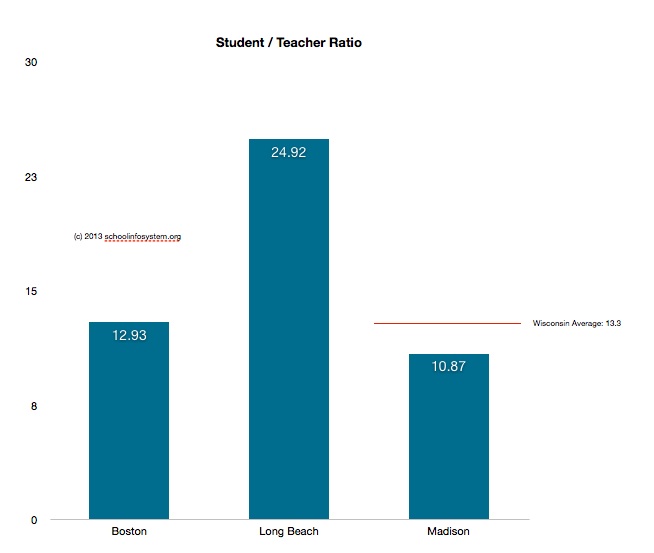 Per Student Annual Spending




Boston Schools' budget information was, by far the easiest to find. Total spending is mentioned prominently, rather than buried in a mountain of numbers.
Finally, after I noticed that Madison's student / teacher ratio is significantly lower than Boston, Long Beach and the Badger state average, I took a look at the Wisconsin DPI website to see how staffing has changed over the past few years. Madison's licensed staff grew from 2,273 in 2007-2008 to 2,492 in 2011-2012.
What are the student achievement benefits of Madison's very low ratio?
Related: Madison Schools' 2013-2014 budget includes a 4.5% property tax increase after 9% two years ago.
"Plenty of resources" and "the Madison School District has the resources to close the achievement gap".
Posted by Jim Zellmer at September 15, 2013 4:13 AM
Subscribe to this site via RSS/Atom:

Newsletter signup | Send us your ideas